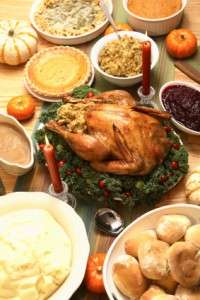 Oh the bliss of another Thanksgiving. Or not. With reluctant candor I confess that the mention of that fourth Thursday in November doesn't stir the embers in my heart. Holidays pressure me to perform beyond my skill-set. They expose my domestic deficiency and creative dearth.
Thanksgiving—a tradition-packed, homespun, poetic celebration, when families crowd highways to connect. Savory roasted turkey and cornbread dressing wafting from the oven, sweet potato casserole, and once-a-year pumpkin pie buried in whipped cream. Sounds good.
But you can't get there without mile-long grocery lines, recipe searches and limitless pots to scrub, a sweltering kitchen, timers going off, rolls burning, drink orders, mismatched napkins, where-are-those-serving-spoons?
Please… is all this necessary? Can't we just be thankful?
A massive undertaking of countless hours, an all-female labor force, and a depleted food budget—is all this worth it for a thirty-minute meal? This girl's not convinced. Call me the Thanksgiving Grinch—I can take it, but I'd rather watch football with the men.
A bright side to this holiday madness comes the day after. No, not the shopping— the leftovers! No cooking for at least two more days. A turkey sandwich and more gridiron—simple pleasures.
Perhaps others feel the same way, but such an unpopular sentiment must be kept to oneself. Too many like-minds might start a rebellion and turn American culture on its head. Don't worry, I'll keep quiet and do my duty—at least one more year. Maybe I'll even work on my attitude—now that would be refreshing.
And while I'm at it, maybe I should acknowledge that a confession without repentance looks a lot like whining without resolving, like a martyr without a cause.
A moment of truth—I'm the one who isn't thankful.
Is it too late to lay down the Martha syndrome and embrace the virtue of putting others first, to choose joy in humble service, to right a ship that's gone off-course? Bring on the sackcloth and ashes—I'm undone.
Silenced and breathing in grace, I climb out of the ditch I dug with my discontent. Free from the rut, I seize a new day, a new opportunity. Hand me an apron so I can get started on that green Jello salad. And this year, I'm creating something different in the kitchen—an aroma of thankfulness.