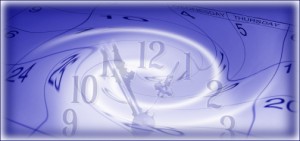 "The thought of adding one more thing to my schedule sends me over the edge." I hear you … and I feel the same way. But don't dismiss memorizing Scripture too quickly.
Because of the value of God's Word, we don't want to skip time in it, but a goal of studying the Bible every single day doesn't work realistically for everyone. Many busy people neglect time in the Word, leaving them unprepared for the battles of the day. Jam-packed lives with activities from dawn to dusk often result in a parched and guilt-ridden soul. For this reason, busy people need Scripture memory more than the average bear.
Memorizing passages serves busy people well, because contrary to what most people assume, it takes very little time because you can do it while you do other things.
So where can Scripture fit in? Let's take your morning routine. Even overachievers take a shower, dry hair, shave or do make-up, brush teeth, make coffee and/or breakfast, and then drive somewhere to work. That's probably at least one hour.
Those repetitive tasks that don't require concentration fit perfectly with memorizing Scripture. Saying a Bible verse out loud, phrase by phrase, breathes life into drab mornings, and invites God into our day. Adding the next verse enriches the experience and broadens the understanding. Meanwhile you're showered, coiffed and dressed—no extra time required.
When you already have passages memorized, what could you review in that one hour?
• Psalm 1 takes one minute to review.
• Psalm 139 takes 2 minutes.
• Most chapters take 2 – 3 minutes.
• A five chapter book like James or 1 Peter takes 15 minutes.
I can hear the pushback now. "But I listen to the news when I'm getting ready." Without apology I say, "Make the great exchange. Trade the bad news for the good, trade man's words for God's."
As the day flies by, capture dead time to fill your heart and mind afresh. Redeem wasted moments waiting at the red light, the printer, the drive-thru, the carpool line, the dentist office. Thirty seconds of Scripture here and there throughout your day turns idle minutes into a conversation with God. No one should be too busy for that.