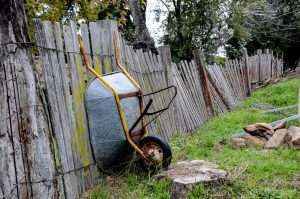 Do you ever feel like this picture, that you are either, a worn out fence ready to fall over with one gust of wind, or, like the wheelbarrow leaning against something so unreliable you might both fall over?
We all have days when we feel vulnerable to toppling over, days when circumstances shake our confidence. So where do you go? Where do you run? Is there any stability in this unstable world?
In Psalm 62 David describes himself as a leaning wall, a tottering fence. Enemies are trying to knock him off his throne. His enemies however, are not an invading army—they are people in his inner circle. David describes his confidence in the Lord even as enemies oppose him. He uses four images (rock, deliverer, fortress, refuge) to paint a picture for us, layer upon layer of dependability, safety, security and protection.
A few weeks back I blogged about Psalm 62 (Who is your Rock? March 27, 2017). But there is much more in this short psalm so I'm back with some highlights.
What can we do with this psalm?
In the New Testament Paul tells us to "speak to one another with psalms, hymns and spiritual songs" Ephesians 5:19. This psalm is a perfect example because its theme is unshakeable confidence in God.
The images of rock, deliverer, fortress and refuge, build unwavering trust in God. They give us strength and resolve. They bring comfort. They add perspective when life is out of whack. Stating and restating truth—to ourselves and to others—builds confidence in God. This is why memorizing Scripture is so powerful—you are continually speaking truth to yourself, and then affirming that truth every time you review.
Use the words of this psalm to encourage someone else. Take a friend who is feeling insecure about her circumstances, and tell her about this psalm. Speak the words over her:
"My soul finds rest in God alone,
my salvation comes from him
He alone is my rock and my salvation
He is my fortress, I will never be shaken."
Speak the psalms to others. And on days when you feel like a worn out fence ready to fall over, speak the psalms to YOURSELF. Journal this psalm, adding your own words of affirmation. Then say the words out loud. Say it like you mean it.
God alone is my ROCK:
he is the stability of my life.
He will not change & he will not move.
God alone is my DELIVERER:
he will never leave me or forsake me.
My life is in his hands.
He will not let me down & he will not let me go.
God alone is my FORTRESS:
he is my high wall of protection.
All invaders must go through him.
God alone is my REFUGE:
he is my safe place, my shelter from the storm.
When life beats me up & others tear me down,
God is my refuge.
God is the unshakable truth in my life
that no enemy can threaten.
My soul finds rest in God alone
I will never be shaken.
There's so much power in words, I'd love to hear yours.