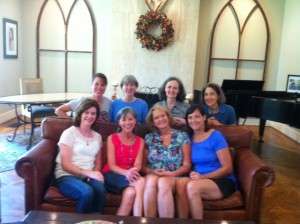 "Two are better than one,
because they have a good return for their work:
If one falls down,
his friend can help him up…
…A cord of three strands is not quickly broken."
Ecclesiastes 4:9-12
Today's photo shows our Scripture memory group in Dallas that began four years ago with three women committed to memorizing books and passages. We now have ten, all ordinary women with everyday challenges. We meet the 2nd Monday of every month, from 11:00 – 12:00. We keep our focus in order to maximize our limited time. We greet one another, open in prayer, and then take turns reciting what we've been memorizing, usually only a chapter or two.
Three benefits: inspiration, accountability, and practical help.
With each recitation we draw near to God and marvel at the living words being poured over us. Nothing compares to this rich experience. Hearing God's Word sparks comments and questions about the text. The reciter often shares some insight from what God is teaching her through this section of Scripture. Then we go on to the next person. Anyone is free to pass on the reciting part if she doesn't feel ready on that particular day—there's no pressure.
The deep fellowship of this group inspires everyone to greater depths of knowing and loving God. Listening to God's Word energizes and invigorates. With refreshing candor we share both the desire and the struggle to live what we are learning. During seasons of weariness, the recitation of God's Word brings water from the well.
Accountability gives teeth to our goals. Someone might say, "Next meeting, I'm going to have finished James chapter 2 and I will recite it for you." This keeps them moving along with a target and a deadline. We have 3 in our group who are memorizing Romans, each one in a different version of the Bible. Listening to the different nuances gives extra insight.
A group provides a perfect place to ask for help and suggestions on verses that trip us up. On our next blog I will share some practical aspects of having a group. We'd love to help others get plugged into a group, so if you have a group, or would like to be in a group please see the side bar and email us.
And, as always, we'd love to hear your questions and comments.