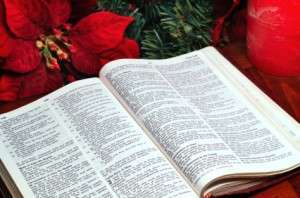 As a young child, Christmas fulfilled a year's worth of longings. My mother, a bookkeeper for a large toy store, lavished her three children with the latest and best from Mattel and Milton Bradley. In some respects it was her way of reducing guilt over being a working mother in a generation when most mothers stayed home. In our spiritually devoid home, Christmas had no deeper meaning than temporal wishes coming true. And that focus prevailed.
Fast-forward to adulthood, and try as I might, I can never seem to duplicate the magic and wonder of the season. The yearning for one perfect day still eludes my grasp. The earth does not stop rotating so that peace on earth can reign. And even though I now cherish the true meaning of Christmas, the sadness revisits every year.
Alas, I'm not alone. Countless others carry these same feelings of let-down.
Many years ago I memorized Luke 1 & 2 in order to combat the negative feelings that loomed every December. Rehearsing the story has become my antidote for sadness. Saying the words over and over transports me to a time and place of promises fulfilled and hopes realized. The words take me outside myself, so that I can embrace the good news of great joy that will be for all the people. Jesus entered the 1st century world when many had given up hope. And through His Word, He enters my world afresh and revives my forlorn soul.
The other night, driving to a party, the traffic inched along and gloom crept in. Tempted with thoughts of another imperfect Christmas, I began to recite out loud. Yes—on Central Expressway, I preached to myself Luke 1 & 2, the most beautiful story ever told. When I arrived 50 minutes later, joy had spilled over and my heart had settled down.
I've learned over many years that memorizing doesn't exempt me from the blues, but it gives me a way to deal with it. When I feel sadness at Christmas, or any time, it signals my need to run to God, to rest in Him, and to drink deeply from the well he has provided.
I would love to hear your thoughts about sadness at Christmas, and how you deal with it.