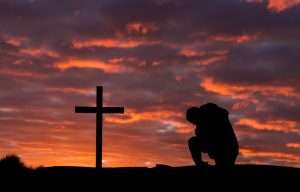 Have you ever wondered why other religions bow down to their gods but Christians do not? If our God is the one true God, as we claim, why would he deserve less honor than false gods? Personally I never thought about it until I studied Psalm 96. Verse 9 reads:
Worship the LORD in the splendor of his holiness;
tremble before him, all the earth.
I looked up the word worship in the Hebrew. There are several Hebrew words for worship, this one means bow down. It doesn't mean sing, it doesn't mean praise—it means bow down, to bend the body, the head, or the knee. Fall prostrate before him. Bowing down is a symbol of adoration and/or submission.
Is the psalmist speaking literally or figuratively? The two previous verses are literal: Come into his courts, and bring an offering. Verse 9 is included in the directives for tangible expressions of worship.
We usually associate bowing down with other cultures bowing to a king, or a superior, or a revered person, or, other religions bowing down to their gods, or to their religious leaders. In 21st century western Christianity, we don't commonly bow down to our God. We bow our heads to pray, we might on occasion bend the knee in prayer, but we stop short of a full-body bowing down.
Angels bow before the one true God. Biblical characters and the saints-of-old fell down in his presence. We do not. We take a more passive route, like, "I'm bowing down in my heart."
I think there may be some legitimate reasons, but the more I thought about this the more I felt convicted, and maybe a little sad. Doesn't our God deserve more than passive worship?
Looking at another enthronement psalm, Psalm 95, seems to imply that bowing down is a physical response to who God is and the privilege we have of belonging to him.
The LORD is the great God
the great King above all gods.
In his hand are the depths of the earth,
and the mountain peaks belong to him.
The sea is his for he made it,
and his hands formed the dry land.
Come let us worship and bow down,
let us kneel before the LORD, our Maker;
for he is our God
and we are the people of his pasture
and the sheep of his hand. Psalm 95:3-7
This leads me to wonder, how much of our worship is cultural and how much is biblical? Are we just following the generally accepted norm of the modern church? Are we too sophisticated? Are we too proud? Do we too easily conclude, God is looking at the heart? Honestly, I don't know.
I'd love to hear your thoughts and ideas.