Children can memorize – often more easily than adults. They recite sports statistics, umpteen jokes, song lyrics and can repeat dialogue from movies or television shows with precise accuracy.
They also can memorize For God so loved the world …
Sometimes adults say that children can't memorize or that they don't understand what they're memorizing. So why bother trying?
I've been in children's ministry for a few decades and here are some truths I've observed.
1. Knowing Scripture brings a child in closer communication with the Lord. When you love someone, you want to be in contact with that person. (How many texts go back and forth between friends during a day?) The Bible is God's message to us. The Bible is living (Hebrews 4:12) which means the words are as up-to-date and relevant as if the Lord Jesus Himself were sitting across from us. Yes, we can go to His Word and read His message (and we should), but we don't always have access to a Bible (even when it's downloaded on our smart phones). How much better to have those words in our mind for instant recall?
2. Knowing Scripture is the compass for life's situations. You probably aren't always present when your children need to make life decisions. God's words embedded in a child's mind can help him make those right versus wrong choices. God's Word is a light to guide them (and us) along the path of life. (Psalm 119:105) When your child faces a tough choice or someone is tempting him to do wrong, don't you want God's words filtering through his brain?
3. Knowing Scripture can bring comfort in difficult times. When my husband was diagnosed with cancer, Isaiah 26:3 played over and over in my mind. You keep him in perfect peace whose mind is stayed on you, because he trusts in you. That verse was literally a lifesaver for me, but I have no idea when and where I learned it – though I know it was when I was a child. Even though I might not have understood that verse at age five or six, I had no trouble understanding it when the Holy Spirit brought it to my mind as an adult.
Children can memorize. We need to be intentional in teaching them Scripture. The words they embed in their hearts and minds as children will affect them not only now but also throughout their lives.
Linda has worked at Awana for more than 20 years as a writer and program designer. She also has worked in just about every facet of children's and youth ministry (other than anything musical!). She is the author of several hundred short stories/articles and 13 books – the most recent: How to Raise a Modern-Day Joseph, published by David C. Cook.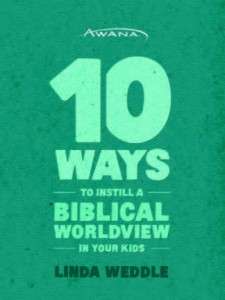 Exciting News! We are giving away 5 copies of Linda's book, 10 Ways to Instill a Biblical Worldview in Your Kids. Anyone who comments will be entered for the drawing. Random Number Generator will be used to select 5 winners on Tuesday at midnight. Winners will be announced Wednesday morning on the blog.