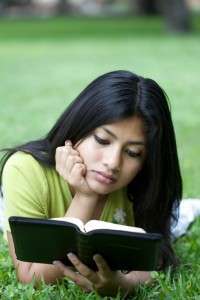 Guest blogger – Tammy Fabian
God's Word is full of knowledge, understanding and wisdom. It corrects, rebukes, encourages, guides, reassures, and much more. Consider taking the following steps to receive counsel from the Holy Spirit when studying God's Word:
1. Be Still to Hear: In Romans 10:17 (NKJV) it reads, "So then faith comes from hearing and hearing from the Word of God." We should first practice being still in order to hear clearly. If we do not stop to pause, how can we hear His whisper when He chooses to speak intimately, directly to our heart?
2. Read His Word: Once we are ready to hear, we need to read His Word in order to listen to what He has to say. Consider using the theme of a specific Book of the Bible and/or chapter to seek out what our soul is in need of, not just verses.
For example in this blog: Prepare yourself to hear, then read Proverbs 28:23 (NIV84).
"He who rebukes a man will in the end gain more favor than he who has a flattering tongue."
3. Pray & Question: Pray to the Lord with questions regarding how His Word is speaking to each of us. Ask Him to unfold His Word to give us understanding (Ps. 119:130). No question is too big or too small.
i.e. Do I have a flattering tongue? Who is someone that has rebuked me?
4. Examine the Past: See if there is any truth from His Word that relates to past experiences. Our past may very well validate His Word.
i.e. When Lenox rebuked me, she reminded me what love looks like between a man & a woman. Her words were delivered with kindness though they peirced my heart. I am grateful for her counsel.
5. Evalute the Present: Consider where you are today after looking at the past. State how God's Word is actively working and/or affecting your life.
i.e. This rebuke has not only affected my current love relationship, making it one of joy; but, my current walk with God is stronger today. More hope, more peace.
6. Apply: When we have heard, read, questioned, examined and evaluated, apply what has been learned to the future.
i.e. Lord, I see that rebuking in kindness does gain more favor than a flattering tongue. May I use this example from Lenox to reach out to someone who needs to hear.