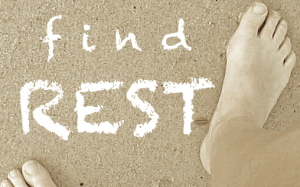 Guest blogger Holly Steadman
Jesus said, "'Come to Me, all you who are weary and burdened, and I will give you rest. Take My yoke upon you and learn from Me, for I am gentle and humble in heart, and you will find rest for your souls. For My yoke is easy and My burden is light.'" Matthew 11:28-30
Are you feeling tired, worn out, exhausted, fatigued? Jesus says, "'Come to Me.'"
Has life just taken a turn toward too hard, anxiety building, burned out, sapped of strength, drained, ready to drop, or grieved? Jesus says, "'Come to Me.'"
Take your encumbrances, your problems, your difficulties—and listen to Jesus say, "'Come to Me.'"
Take your responsibilities, your duties, your obligations, your millstones, your liabilities—and pay fastened attention to Jesus as He says, "'Come to Me."
Every worry, every trouble, every heavy-laden guilt or oppressive weight are His to take. And what He gives to replace weariness and burden is rest. He gives rest–which means He does not just merely allow it. His rest is His gift way-far-beyond allowance. In fact, rest is both His gift and His commandment.
Psalm 46:10 says, "Be still, and know that I am God." To "be still" means to cease commotion and striving.
Dear tired and weary, burdened and worn out, come to Jesus. Be still. Cease striving. Stop moving. Calm down. Unclench. Yield. Relax.
"Do you not know? Have you not heard? The Lord is the everlasting God, the Creator of the ends of the earth. He will not grow tired or weary, and His understanding no one can fathom. He gives strength to the weary and increases the power of the weak." Isaiah 40:28-29
"For we do not have a high priest who is unable to sympathize with our weaknesses, but we have One who has been tempted in every way, just as we are—yet was without sin. Let us then approach the throne of grace with confidence, so that we may receive mercy and find grace to help in time of need." Hebrews 4:15-16
Come to the everlasting Jesus. He is the Lord of perseverance. His understanding is fathomless. "He gives strength to the weary and increases (make greater in size, amount, intensity or degree) the power of the weak."
The sympathies of Jesus give mercy and grace that is inflationary to match and surpass dire and desperate need. Does life have you tearful and tense? Let the Word of God speak to you and listen as Jesus says, "Come to Me."
And know this Jesus.
He is God.
Here is a link to Holly's blog www.mymansrib.blogpost.com