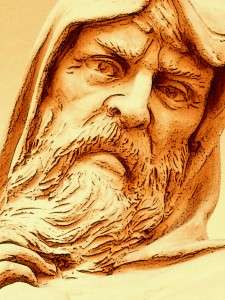 Seven days into Haggai, we already hear God's message to us in the 21st century. I hope you took time to read up on the background to get the setting for the book. Here's a review.
Background:
• In 586 BC the Babylonians invaded Jerusalem and destroyed the Temple and left the city in ruins. Most of the people were carried into exile to Babylon.
• In 539 BC the Persians conquered Babylon and one year later, Cyrus the Persian King issued a decree permitting any Jews to return home and rebuild the temple.
• Haggai the prophet writes 4 messages in 520 BC, to the group that returned.
Without going past the first seven verses, what have we learned so far?

About the people?
• Their priorities are inverted. They've been concentrating on building their own homes and meeting their own needs, instead of rebuilding God's house.
• Their lives are full of hardships. They never seem to have enough food, clothes or money.
About God?
• He is the LORD Almighty, also translated the LORD of Hosts, which carries military overtones. He is the LORD over heavenly armies.
• He is not impatient or demanding with his people. It isn't revealed in the text, but its been 18 years since the people returned, and they still haven't gotten around to rebuilding God's temple.
• Now is the time God is calling them to account. He asks them to carefully examine what they've been doing, and how that's been working for them.
About the Temple?
• It's not equivalent to our modern church buildings.
• The Temple was central to the Jewish way of life and their worship of God.
• Without the Temple their worship was on hold: no priests, no sacrifices, no festivals.
About us/me?
• We too, are self-absorbed and focused on our own agendas.
• We postpone God's priorities until the time is right, but that time never comes.
• We have a responsibility as God's people to carry out his plans for his kingdom.
• When I make my life all-about-me, it never turns out like I'd hoped. When I focus on God I don't need to worry because he will accomplish what's important.
We're beginning week 2 of Haggai. So much more to learn. I am re-imbedding the links from last week because I did it incorrectly.
http://www.desiringgod.org/sermons/take-courage-you-build-more-than-you-see
https://www.preachitteachit.org/sermons/sermon-series-detail/resource/series/Chans-Haggai-on-Priorities/
I'd love to hear what you have learned from the first seven verses of Haggai.