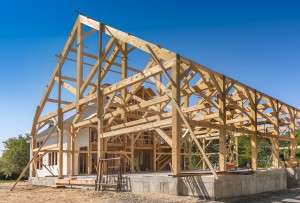 What if your house were completely destroyed in a tornado? And then, what if, when rebuilding you realize the new house will not begin to compare with the charm and character of the original house? Perhaps that's because your insurance money was inadequate to duplicate the fine craftsmanship and detail of the first house. Would you be discouraged? Would it dissuade you from continuing the long and laborious task of rebuilding?
This is the setup for Haggai's second message (2:1-9). The Lord asks: "Who of you is left who saw this house in its former glory? How does it look to you now? Does it not seem to you like nothing?"
The Lord anticipates their thoughts and addresses the issue head-on. In the large group of workers there would only be a small percentage of those that would remember Solomon's temple from their childhood. There were no photographs or videos back then, but surely there are drawings and paintings of its splendor.
A few negative comments can quickly sour the enthusiasm for the project. All seem to concede that this unimpressive temple will not compare with the grandeur of the first one.
Haggai brings another message from the Lord, casting a vision of what the future holds for the temple and the nation.
Often our work seems unimpressive to the world—even to ourselves. We get caught in the comparison treadmill—something done in the past by someone else becomes our unattainable standard. Or, we look around at what others are accomplishing now and conclude that we fall short.
The people rebuilding the temple allowed their eyes to discourage them, so the Lord intervened with a new message. "The glory of this present house will be greater than the glory of the former house. And in this place I will grant peace."
The people will have to trust Haggai, and take God at his word because they will not see this prophecy come to fruition in their lifetime. Likewise, we will not see all that becomes of our labor for the Lord. We too must take God at his word, and not rely on what our eyes tell us.
Meanwhile let's follow the Lord's directive that remains clear: "Be strong, all you people of the land," declares the Lord, "and work. For I am with you."
I'd love to hear your thoughts on Haggai's second message, or your progress in learning it.