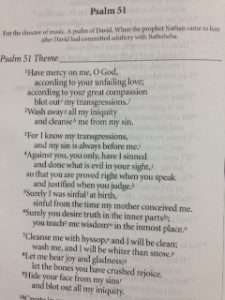 This well-known psalm is King David's confession after his adultery with Bathsheba. I made this psalm a memorizing project and began to say the words over and over, day after day. As usual I began to see things I'd never seen before. Beginning in verse 8, and continuing through the end of the psalm, two connected themes: man's joy and gladness in God (verses 8, 12, 14) and, God's delight and pleasure in his people (verses16-19).
When all is well in our relationship with God, joy and satisfaction fill us up. We delight in pleasing the One who delights in us.
When we sin, and leave that sin un-repented and un-confessed, it creates a distance in our relationship. God does not delight in sin because he wants what's best for us. Neither does he delight in a meaningless sacrifice as an attempt to make amends. God delights when we come to him with a contrite heart, broken and yielded. And when he is pleased, our joy increases, because we delight in delighting him.
My own experience confirms this. The longer I stay in an un-confessed condition the more I spiral downward. I'm miserable and slowly begin to hate my life because I've hurt what is most precious to me. Waiting to confess my sin only hurts me and prolongs my misery. I want to return to the joy of a right relationship with God.
I wrote this poem as my personal summary of the psalm:
I hate my life—its all my fault
My sin has put me there
The mess is great
Confession can't wait
For I have no joy to spare.
I've hurt the One who loves me most
My actions crossed the line
His Law is just
Repent I must
The consequences mine.
The Lord forgives my darkest sins
His mercy washes me
Though scarlet red
For sins he bled
To set offenders free.
When I confess the wrong I've done
He doesn't make me wait
He hides his face
And commands, "Erase"
And gives me a clean slate.
Oh friend, don't wait to be restored
Bring your contrite heart
Trust God's Word
Your prayer is heard
He'll give you a fresh start.
Bring God the desired sacrifice
Others will follow then
God will delight
When you make it right
And you'll love your life again.
What are your thoughts on Psalm 51, poetry, and the benefits of meditating on a Scripture until it becomes your own?