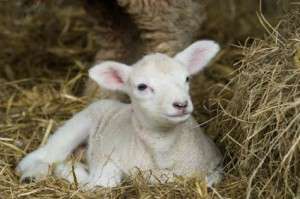 (This blog post used with permission: Dr. Mark Hitchcock, Pastor, Faith Bible Church, Edmond, OK, Adjunct Faculty, Dallas Theological Seminary)
"She will bear a Son; and you shall call His name Jesus, for He will save His people from their sin" (Mt 1:21).
The best-known, best-loved nursery rhyme of all time is undoubtedly "Mary had a little lamb." Someone has poignantly rephrased the verse as a vivid reminder of who Jesus is and why He came.
Mary had a little Lamb, His life was pure as snow.
And everywhere the Father led, the Lamb was sure to go.
He followed Him to Calvary, one dark and dreadful day,
And there the Lamb that Mary had washed all my sins away.
The story of Mary's Lamb didn't begin in the manger in Bethlehem. It didn't even begin on earth. It began in heaven before God hung the world in space. The Bible says Jesus was a Lamb slain before the foundation of the world (Rev 13:8).
The entire sacrificial system in the Mosaic Law was a huge canvas that pictures man's need for an innocent substitute to die in his place. Jesus was the Lamb of God from the beginning of His incarnation. He was born in a stable, laid in a feeding trough, and visited first by shepherds.
When you think about it, the Bible is the story of God's Lamb. Someone has said that the entire Bible can be summarized in three great statements about the Lamb.
During Old Testament times, the nagging question was "Where is the Lamb?" (Gen 22:7)
In the Gospels and Epistles the proclamation is "Behold the Lamb!" (Jn 1:29)
And in the consummation the cry is "Worthy is the Lamb!" (Rev 5:12)
Christmas is a magical time of giving, singing, celebration, and family. But may we never forget the reason Jesus came. He was born as Mary's little lamb to die for you and me to "wash all our sins away."