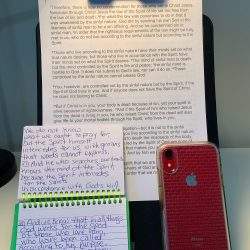 Hey everybody!
I got a very slow start this new year, but I'm planning a strong finish.
I'm going to memorize Romans 8 starting February 1. There are 39 verses, which means that even though I lost January completely, I can still finish by December 31, and have a few weeks in the middle just for review. Anybody want to join me? So far, we have 6 peopl
Romans 8 contains some of the most inspirational and practical words in the entire Bible—words to live by, words to die with.
You can memorize in any version you like. I will memorize in NIV1984 but you should pick the version you like best.
In the picture you see 3 ways to memorize:
• use your phone
• write the words on spiral index cards
• print the script from a Bible website
There are lots of ways to memorize, but these are the ones I use.
How will we do it together? Great question.
It depends on how many people we end up with. (I'm thinking we might use Group Me and send videos monthly of what we've done so far). The main thing is to have a way to stay on track by encouraging each other. And it will be fun!
If you think this opportunity might be for you, read over the words of Romans 8. Ask yourself if you need them in your life (I do!) then ask God if he will help you (He will!), tell us on the blog, then email me privately at janet@janetpope.org
I will put together a master list and email everyone with some options.
OK friends, let's do this!