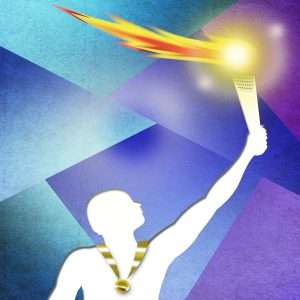 Finally some encouraging news—the summer Olympics. The competition has refreshed us and kept us coming back each night. We applaud the dedication and sacrifice of the athletes, whether they win or lose. But of course, when it's our team, we prefer the win. For USA, the medal count stands at over 70, 26 of those gold. We're swelling with national pride, and with a few days remaining, we expect to win even more. The Olympic diversion comes at a good time for those of us feeling news-weary.
Next week we'll return to the other top story—the presidential election. We'll go from national pride to national horror. Disgusted and discouraged by our limited prospects, we anticipate a great humbling of our national pride. We fear the future of our homeland in the hands of wicked and incompetent leaders.
Before I decide to jump off the nearest bridge in humiliation, or in protest, I steer myself back to the Book of timeless truth, unaffected by the news, whether good or bad. The words of Isaiah give some perspective, from the esteem we give athletes, to the threat we feel from rulers.
"All men are like grass,
and all their glory is like the flowers of the field.
The grass withers and the flowers fall,
because the breath of the Lord blows on them.
Surely the people are grass.
The grass withers and the flowers fall,
but the word of the Lord stands forever." Isaiah 40:6-8
"He sits enthroned above the circle of the earth,
and its people are like grasshoppers.
He stretches out the heavens like a canopy,
and spreads them out like a tent to live in.
He brings princes to naught
and reduces the rulers of this world to nothing.
No sooner are they planted,
no sooner are they sown,
no sooner do they take root in the ground,
than he blows on them and they wither,
and a whirlwind sweeps them away like chaff." Isaiah 40:22-24
Oh how we need this reminder. Our God reigns from heaven forever. Everyone else has a time limit on their glory.
As always, I'd love to hear your thoughts.