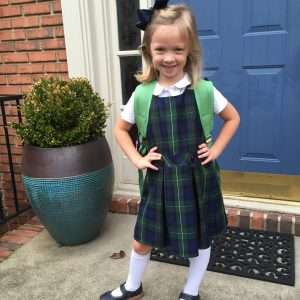 I will do anything for my sweet granddaughters. My oldest, Carrington, just started the first grade. She called to tell me that her class is memorizing a Bible passage for the entire year, at one verse a week. Wanting to be her biggest encourager, I told her I would memorize it with her (even though its in ESV, which is not my favorite for memorizing). We're now on week five, and it has been such a joy. Every Thursday she sends me a video over the phone to recite her passage. And then I send her back a video reciting the same verses. Technology overcomes our 500 mile distance.
I often receive comments that my method of memorizing is too intense for them. So I'm throwing out a new suggestion. Take a passage and memorize it one verse a week. Think of the cumulative benefit. At the end of the school year, these six-year-olds will have 36 verses in the same passage. If each grade continues with the same plan, that's 432 verses by the time they graduate. Wow, I've never been so excited about one verse a week.
Parents, and grandparents, this is such a doable plan for your children, teenagers and yourself. Let me share a few benefits that come to all who memorize God's Word, and then I'd love for you to add to my list. We memorize so that we will:
• know how much God loves us
• learn to distinguish between truth and error
• stand alone against peer pressure
• trust God's Word as a source of wisdom for whatever life hands us
• find comfort when life disappoints us
• avoid the pitfalls that await us in this ferocious world
And the list goes on…
I'd love to hear your additions to the list.