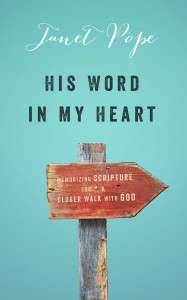 WHAT?
Our ministry is offering signed and personalized copies of HIS WORD IN MY HEART with free shipping.
WHEN?
This Christmas promotion is good until December 18.
WHERE?
www.janetpope.org/books/
HOW?
1st: Pay with Credit Card or Pay Pal.
2nd: Send email with the names of the recipients.
www.janetpope.org/contact/
WHY?
Give a gift that will inspire, encourage, and equip others to go
deeper into God's Word.