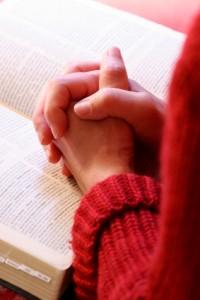 Tired of praying "Lord bless me and my family, help me and my friends, bless us and help us, Amen"? I hear you! A rut of repetitive prayers leads to boredom and a search for the nearest exit. I've been there. A long list of needs and a guilty obligation never lead to dynamic prayers. Although praying may be innate, what to pray is not. Let's be honest, we don't know what to pray, and why waste time on meaningless babble.
In two parts, I'll share how praying Scripture breathes life into dismal prayers. Part 1 covers prayers for myself. Part 2, prayers for others. And good news for everyone—Scripture memory not required (though always beneficial).
• Praise – For me, praising God feels awkward and inadequate. After, "I praise you Lord" no more words come out. So I borrow praises from Scripture. "You are worthy, our Lord and God, to receive glory and honor and power, for you created all things and by your will they were created and have their being." (Rev. 4:11) Adapt others, from "God is my refuge and strength" to "You are my refuge and strength…"
• Confession – A bathtub full of brown water alerted me to a worn out hot water heater. Yuk—we'd been showering in rusty water for quite some time. It reminds me of the subtlety of sin. We don't notice minor offenses till all the drops add up to brown water. Whatever Scripture I'm reading or memorizing for that day, I use it as a tool for self-examination, "Am I living this truth?" "Does this describe my life?" "Lord show me where I'm off the path." Confession leaves me feeling clean and restored.
• Requests – Each day's designated scripture passage keeps me focused on the important, not the urgent. E.g. I live under constant deadlines, preparing messages for speaking events. My frantic heart wants to pray through all the details. Instead 1 Corinthians 13 directs me to pray, "If I am a great teacher, filled with impressive knowledge but without love, I am nothing. Lord, fill my heart with love for my audience." The Lord's prayer (Mt 6), leads me to pray, "Lord, no matter what else happens today, may Your name be honored, Your kingdom furthered, Your will accomplished in my life."
Fresh prayers each day come from new Scriptures that I'm either reading, memorizing or reviewing. No more stale or static litany!
I'd love to hear your insights and experiences with praying Scripture.