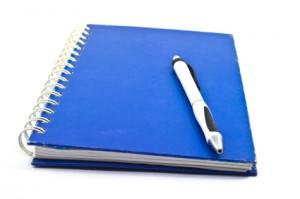 For years a sporadic prayer life left me feeling guilty and inept. While I kept a list of emergency requests, I had no idea what to pray. Should I pray that Jim gets the job, or not? That Candice marries Jason, or Curt? Maybe neither. Bogged down with a myriad of requests, I felt pressure to ask the right thing so I could check it off as answered prayer.
Breakthrough—pray Scripture!
My prayer book now has a page for each family member. More pages list others to pray for. I choose scriptures to put under each name—a few fixed verses for the year, and fresh verses added as I come across them. My prayer book gets updated every January 1, with new pages and new verses added as the months progress.
My routine is to spend time in God's Word first before I pray. Whatever I'm reading, studying or memorizing at the time, I include verses in my prayers for others. Along with urgent needs of the day, I direct my focus to requests that are aligned with God's will.
For example:
My daughter Natalie is a stay-home mom with two pre-school children. What do I pray for her?
A few of my favorites for her:
• Love her husband and children Titus 2:4
• Be a wise woman that builds her house Prov 14:2
• Teach her children as they go about their daily routine Dt 6:6-9
My son Austin (single) has his own list:
• Be an instrument for noble purposes, made holy, useful to the
Master, and prepared to do any good work 2 Tim 2:21
• That God will make him a fruitful branch on the vine Jn 15:5
• That God will keep His hand on his life Ps 139:5
This week in Galatians things jumped off the page to pray for friends and loved ones:
• Live by faith in the Son of God who loved them and gave Himself
for them. 2:20
• Be victorious in the battle of the flesh vs the Spirit 5:17
• Not become weary in doing good. 6:9
Other go-to favorites include the prayers of Paul: Ephesian 1:17-21; 3:14-19; Colossians 1:9-12; 2 Thessalonians 1:11-12.
Looking in the Word for things to pray makes it personal, varied, and no longer robotic. And … no boxes to check off. I'd love to hear some of your tips for meaningful prayers.