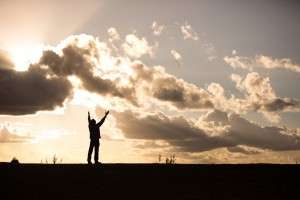 Our 21-day-experiment officially ended yesterday, but keep going if you're not done yet. I had two out-of-town trips, got ahead, then fell behind, then fell further behind, then I doubled up, and caught up. It doesn't matter how you get there.
Spending 21 days in the same psalm—repeating every word, every phrase, every line, over and over—what does that do for someone? You don't know what the benefit will be when you start out.
My time in Psalm 145 made me feel like I'd never even read it before.
As much as I love to study the Bible and read commentaries, memorizing gives me the chance to learn for myself before getting someone else's take. And seeing it myself sends my bliss-meter through the roof.
"Great is the LORD and most worthy of praise; his greatness no one can fathom."

David, a king himself, declares God to be his King. Compelled by his unsearchable greatness, in both attributes and acts, God's people use their voices to praise and extol him, to magnify his kingdom, to sing and celebrate, and then to pass on his fame to the next generation.
This psalm highlights the Lord's interactions with his people. Trusting his promises, they look to him to provide their needs and desires, they call on him in truth, fear him, and love him. With gracious compassion and extravagant love, the Lord holds up all who fall, opens his hand to provide, draws near and listens, saves them and watches over them—lavish abundance!
David, knowing that the praise of one man will never be enough, calls on every creature to join him in extolling the greatness of the LORD. Through memorizing this psalm, I too unite with David, borrowing his words, making them my own, and expressing my worship without having to search for the right words.
I've barely scratched the surface of this psalm, but I've jumpstarted the process by committing it to memory. Here's how I'll keep it going:
• Review Psalm 145 every day for at least a month. To make sure I do that, I will either do it first thing in the morning, or, I will couple it with something I do every day, like making coffee. It only takes two minutes to review the entire psalm—totally doable.
• Then I will put it in my review rotation with the other psalms I've memorized.
• Third, the spiral that I wrote it on will stay in my car, so I can review while driving.
• I will recite it to my scripture memory group, which meets once a month. This will push me to get it solidified, and it will bless them as they listen.
• I will now study the psalm, and hopefully have an opportunity to teach it.
How will you keep from forgetting it? Devise a plan that works for you, then execute the plan.
Stay tuned for the next memorizing adventure. I plan on starting something new on June 1. Would you like to join me? We can work on the same passage or a different one—either way, we can do it together. I'll let you know which passage I decide on. I welcome any ideas or suggestions.