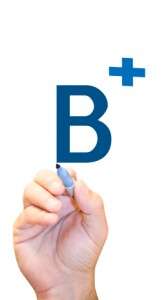 As each calendar comes to an end, Ethan and I reflect back on the blessings of the year—always too numerous to count. Then we take stock of our lives in the area of finances, health, family, career/ministry, and the all-important spiritual dimension. Honest self-evaluation leads to productive changes. I assume that many of you have a similar ritual.
The Scriptures exhort us: examine yourself, judge yourself, test your actions.
In light of the day when we will all give a final account of our lives, wisdom suggests that we make a periodic self-assessment. The intent is not to turn our relationship with God into a checklist, but rather to identify areas we need to grow and mature.
Spend a few minutes with the following statements. Evaluate and grade yourself, A – F.
1. Jesus' summary of what matters most: "Love the Lord your God with all your heart, soul, mind and strength. And love your neighbor as yourself." _____
2. I'm spending consistent time in God's Word. _____
3. I am putting into practice, and obeying what I learn in God's Word. _____
4. My conscience is sensitive to the Holy Spirit's prompting. When aware of sin, I quickly repent and seek restoration. _____
5. I have a plan in place for battling negative or sinful thoughts. _____
6. I have at least one person in my life that I interact with on a deep spiritual level, for fellowship, accountability and growth. _____
7. I am building trust, and speaking truth to those people in my life who are lost. _____
8. All my financial resources belong to God. _____
9. I'm employing my spiritual gift(s) to build up the church. _____
10. I use my time wisely, for the glory of God. _____
11. My prayer life is biblical and fruitful. _____
12. I'm enjoying my relationship with God, delighting in Him, and communing with Him
throughout my day. _____
Look back over the list and identify which areas you want to see change in 2014.
So what does all this have to do with memorizing Scripture?
Peter tells us that God has given us everything we need for life and godliness through our knowledge of Him (2 Peter 1:3). If this verse is true, and I'm staking my life on it, then memorizing Scripture will help us to grow in each of the 12 points above.
On Wednesday's blog I will suggest some goals related to Scripture memory. And as always, I welcome your comments.