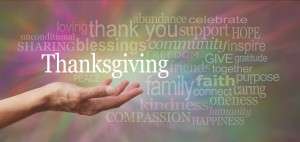 Today on my early morning walk, I began thanking God for the innumerable blessings in my life. Inevitably I came to God's Word and my gratitude spilled over into a list.
I'm so thankful that God, who created all there is, gave me a book where He reveals Himself. I see God in the recorded events of Jesus' life. I hear God speak when Jesus speaks.
I am able to commune with God around His Word, confident that I am worshiping in spirit and truth. And there's no limit to the depth He will take me.
His divine power has given me everything I need for life and godliness through my knowledge of him. Everything! I have found this promise to be true over and over.
God's Word shows me the ancient path when I come to a crossroad. And in choosing that path I find rest for my soul.
When heartache devastates those around me, and my words are insufficient to heal, I borrow words from the Father of compassion and the God of all comfort.
I have clarity in what it looks like to obey the Great Commandment to love God and to love others. I can love God by embracing the truth of His Word in daily choices. I can love others by pointing them to the Words of Life. This simplifies for me what otherwise seems so complex.
In my world of disorder and deadlines, God's Word gives me a worthy goal to continually strive for—to be a workman who is not ashamed, who correctly handles the word of truth.
The Bible gives me words to repeat back to God in praise and thanksgiving.
"Shout with joy to God all the earth! Sing the glory of His name. Make His praise glorious…"
As this year's calendar will soon turn to the last page, I'm thankful beyond words for all the opportunities God has given me to be a channel of His Word flowing to others. There is no higher privilege or greater joy.
I would love to hear from all of you. In what ways are you thankful for God's Word?