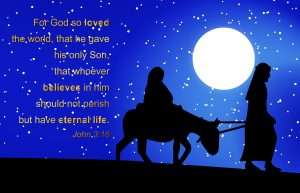 Are you struggling, like I am, to be merry this Christmas?
The genocide taking place in Aleppo weighs too much to pretend all is well. The visuals on our screens assault our sense of civility in the world: desperate families trying to escape, a staggering number of dead, blood-covered children looking for their parents, hospitals overwhelmed, doctors leaving, fear that never lets up. We're witnessing evil incarnate: pride, hatred, murder, greed, indifference—more suffering than can be imagined in a lifetime. Some of these people are our Christian brothers and sisters. The toll on their lives seems insurmountable.
There is no peace on earth—no, it's hell on earth for some.
It's hard to turn off the news and head out shopping, with Holly Jolly Christmas playing in the background. We busy ourselves preparing for our celebration of excess, with luxuries we don't need. The decorating, the partying, the gift-giving—it seems out of place in our hurting world. We could cancel Christmas—that sounds noble, but that wouldn't help those who suffer.
Sometimes the horror in front of us, drains out the hope inside of us. We forget (I do), that Christmas is a story of hope.
The world's greatest problem is not war—it's sin. Sin is the cause of all the suffering in the world. God sent Jesus to die as an atoning sacrifice for our sins. This is good news. This is hope.
His incarnation is one step in a series of fulfilled promises. Jesus was born at Christmas. He died on Good Friday, and rose from the dead at Easter. Some promises are still future but guaranteed by God himself. Jesus promises to come again, and take his people to the home he's preparing for us. We persevere and wait, with the certainty of that hope.
Hopelessness prevails when we make this world our home. Our hope is not in a place or in perfect circumstances. Our hope is in a person—Jesus. He came as a baby, born to a virgin, in a time of political unrest. An angel appeared to shepherds and announced that the Messiah was born for all the people. They would find him in a manger. Oh come let us adore him.
Jesus is the only hope for a war-torn country, for sin-stained souls, for every grieving heart at Christmas.
God does not sit silently somewhere with folded arms, detached from earth's woes. He's working out his redemption plan, and inviting us to join him in spreading the gospel of hope. Because we know the truth, Christians should be the most hopeful people in the world, regardless of what we see on the news.
So how should we celebrate this Christmas?
Focus on Jesus—the hope of the world. Don't skip Christmas—celebrate the true meaning of Christmas.
Sing enthusiastically songs that proclaim the truth and the hope:
for example, Hark the Herald Angels Sing, (3rd stanza)
"Hail the heaven-born Prince of Peace!
Hail the Sun of Righteousness!
Light and life to all He brings,
Risen with healing in his wings,
Mild he lays His glory by,
Born that man no more may die,
Born to raise the sons of earth,
Born to give them second birth."
Spread the hope of Christmas to others:
God always puts hurting people in our path, even people at our table. Let the events in our hopeless world lead to a discussion about real hope. Reach out to those close to you who are hurting. Give them a reason to hope.
I'd love to hear your thoughts.