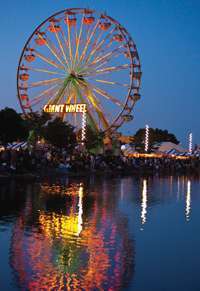 Guest Blogger – Cherie Castillo
His tiny neon green Honda took me by surprise as it rambled up the gravel road leading to my house. The boy I liked as a teenager had come to ask if he could take me to the county fair. My mom knew he was a nice boy— but that Lilliputian car made her nervous. I begged to go and she compromised by praying over the two of us before we set off.
Walking around the fair later, in the warm August sun, we came upon a square white tent. Hung across the top were signs…"Do you believe heaven is real? Do you know the meaning of life? TELL US FOR A PRIZE "!
Always self-confident—the way the oldest child is when raised by a single Mom, he laughed saying, "so easy, I'm doing this…wait here." I waited— having no clue his life would change forever.
After awhile, he came out smiling and showed me his prize— "the Book of John." I must've looked confused so he said, "I asked Jesus Christ into my life with those people who told me about Him…."
Although raised in a Christian home, I had only head knowledge of Christ. It would be years before my heart truly embraced what Christ accomplished by conquering death. My response was beyond shallow, "Oh, cool…that's great."
Driving back after the fair, I suddenly realized he was seriously speeding. Over the music of Earth, Wind & Fire on his 8-track player, I yelled, "SLOW DOWN"! He reached over, turned the music down, smiled calmly and said, "Don't worry, I'm not gonna die when I'm young."
Six weeks later to the day, he was speeding again in that matchbox Honda. Losing control, he crashed over an embankment —head on into a gigantic tree. He was killed instantly. True story.
Six weeks prior to his death, somebody went through Scripture with him and he learned about eternal life through Christ. Good thing God wasn't depending on me!
The more we memorize, the more we can be like those in the white tent at the fair. From memory, we can share the gospel with anyone questioning the meaning of life. It doesn't matter where— because long passages, chapters and books of Gods Word are etched in our memory. We can share the meaning of our Savior's birth, death and resurrection.
I'll never know who those people were in the summer of 1979, but because of them, a blonde, lanky 17-year-old boy is with the Father for eternity.
KEEP MEMORIZING!