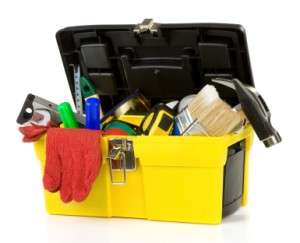 Tools repair broken things. Tools also build things. Even in memorizing Scripture some basic tools will help us to achieve our desired goal—to keep God's Word in our hearts and minds throughout the day. Since many are taking the plunge in 2014, I offer some tools to help in the areas of accessibility, habit developing, accountability and review.
ACCESSIBILITY
After deciding which passage or book to memorize, put it in a portable form so that it's accessible to you wherever your day takes you. You can't haul your Bible around everywhere.
• Print the passage from a Bible website like www.biblegateway.org .
• Another option—handwrite the chapters on a 3 x 5 spiral.
• Get a Bible app for your phone and set it so that your passage comes up in your desired version when you open it. You Version is free. The same app can be used on a tablet.
• For those looking for an app with NIV 1984, 2 apps are available:
For I-Phone: https://itunes.apple.com/us/app/niv-bible-1984/id400472881?mt=8
For android: https://play.google.com/store/apps/details?id=me.piebridge.bible
HABIT FORMING
• Identify times in your lifestyle when you have tasks that require busyness but not thinking: morning routine, commute time, household chores, yard chores, walking the dog, exercising. Develop habits by pairing Scripture memory with other activities that you do on a regular basis.
• While trying to establish the habit of coming back to your verses throughout your day, try setting a timer/alarm on your phone to signal you every 2 – 3 hours. It will soon become automatic and you won't need your alarm for long.
ACCOUNTABILITY
• Get a partner. Someone said to me, "I don't want to tell anyone in case I fail." I say, "Tell someone who will keep you accountable so that you will not fail."
• Join a group or start a group.
• Online community. Subscribe to our community so that you can get encouragement and practical help 3 times a week.
REVIEW
Find tools that work for you.
• Audio record yourself reciting your verses. Many phones have this feature on Settings.
• www.scripturetyper.com a fun and free website (and app) where you can check your accuracy by typing out your verses.
• Logos Bible Software www.logos.com/scripture-memory-tool
Many more tools exist that I'm unaware of, and new ones are being developed all the time. Please share with the community any other helpful tools that you know about.