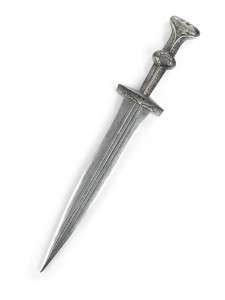 Mary treasured up all these things and pondered them in her heart: Gabriel's words, the visit with Elizabeth, Jesus' birth, the shepherds' visit.
But there was more to the story. Simeon tells Mary that her child Jesus will divide the nation. Some will believe in him and rise. Some will reject him and fall. Jesus will be opposed by many, because he will expose men's hearts. Watching what happens to Jesus will pierce Mary like a sword.
For 30 years Mary pondered these words, and they tested her during Jesus' ministry.
• Her other children didn't believe in Jesus. Surely she'd told them about the miraculous conception and birth. They didn't buy it.
• The Jewish leaders that Mary grew up revering viciously opposed Jesus.
• Things went terribly wrong when John the Baptist, son of her beloved Elizabeth, was beheaded.
• Things got worse. Jesus was accused of blasphemy for claiming to be God's Son. But he is God's Son.
• Mary watched Jesus die the death of a criminal—Roman crucifixion reserved for the vilest offenders.
• The sign nailed to the cross mocked her, "King of the Jews." That's what she'd been told by Gabriel. The words were crystal clear in her mind. So where's the throne? Where's the kingdom? How can an angel be so wrong?
A sword was piercing her soul. Confusion and misunderstanding crushed her dreams and smothered her hopes.
Where's the justice? How can an innocent one be put to death instead of the guilty ones? Did she understand? Could she?
What about us? Are we so different from Mary? Our lives are also a mixture of treasured events and a piercing sword.
We've all had joyous moments, abundant blessings and happy times too numerous to count— memories of family, friends, laughter, announcements, celebrations.
And we've all had hopes that died, dreams that faded, hardships and loss that can never be healed in this lifetime. We too have misunderstood God's mysterious plan. We've had promises that now seem to make no sense. So here is a question for you to ponder:
when you hear the Christmas story, is the beauty of it marred by the sword?
No, because we know what Mary didn't. We know the end of the story.
The sword that pierced Mary saved us. Mary's sword became our treasure.
What can we learn from Mary? When your world is rocked, when a sword has pierced your soul, don't let the sword mar the beauty of the treasure.
Hold on to God's Word even when it seems to make no sense.
Trust God that there is more to the story than you've been told.
Press on faithfully, so that one day your sword will be someone else's treasure.
God's plan for each of us includes both the treasure and the sword. In humility and submission, may we respond as Mary did, "I am the Lord's servant. May it be to me as you have said."