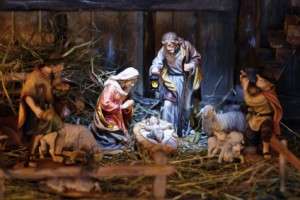 Luke's gospel gives us a close-up of a young Jewish woman named Mary, chosen by God for a special assignment. She would take part in the greatest event in human history. And she would be a witness to the greatest injustice in human history, and it would pierce her like a sword.
We find a repeated phrase in Luke chapter 2, "Mary treasured up all these things and pondered them in her heart." What were these things she embraced and contemplated? They were the events surrounding the birth of Jesus.
• The angel Gabriel told Mary that the Spirit of God would overshadow her and she would conceive a son. This child Jesus would be the fulfillment of God's promise to David—a descendant who would be king over Israel forever. Did Mary understand all this? No, but her response gives us a window into her soul, "I am the Lord's servant," Mary answered. "May it be to me as you have said."
• Mary's visit with Elizabeth—what a gift this was to both of them. Who else could possibly understand … and believe? Elizabeth herself experienced God's intervention in her barrenness. She affirmed Mary's blessed position and strengthened her for the challenges ahead.
• Strange details surrounded Jesus' birth. A pagan king ordered a census, forcing Mary and Joseph to travel to Bethlehem. Their only option for lodging was a stable. No family, no flowers, no wreath on the door, no stork in the yard. No special gown for the future king. Mary wrapped him in rags and placed him in a feeding trough for animals.
• Finally, visitors to see the new baby. But shepherds? How strange. Shepherds were looked down upon by the religious elite because their work kept them ceremonially unclean and thus excluded them from temple worship. But they were not excluded by God. An angel appeared to them, and then thousands more, to announce the birth of a Savior for all people, even shepherds. Heaven shouted to earth the significance of the birth.
Mary treasured up all these things and pondered them in her heart: Gabriel's words, the visit with Elizabeth, Jesus' birth, the shepherd's visit. There was a lot to ponder.
But this was not the whole story. What about the sword? Could we just forget about the sword and make it a happily ever after? Stay tuned for part 2.