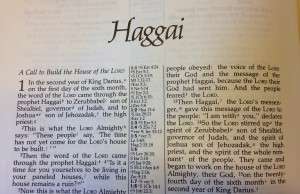 I'm recruiting others to join me in my next memorizing project—Haggai. No, I'm not joking.
Why Haggai?
When people ask me what they should memorize next, I tell them to build their memorizing storehouse with a variety of authors and genres: Paul's letters; James, Peter & John; parables of Jesus; Psalms; Proverbs; Ruth; Esther; passages from the gospels, Deuteronomy and Isaiah.
Memorizing from assorted texts provides a wide spectrum of insights and enriches the experience. Taking my own advice, I decided to tackle a minor prophet. Two reasons I chose Haggai—its one of the shortest, and its not poetry.
What's the plan?
I'm giving you a heads-up so you can think about it, or get started early.
This will be a two-month project beginning July 1 and ending August 31.
Day 1, start with verse 1.
Add a verse each day until the end of the chapter on day 15.
Take the remaining days in July to review chapter 1.
On August 1, start chapter 2 with verse 1, and add a verse each day until day 23.
Then spend the rest of the month reviewing both chapters.
First steps
Do any or all of the following:
Handwrite the entire book on a 3 x 5 index spiral.
Print the text of Haggai from a Bible website or Bible software. www.biblegateway.com
Queue your Bible app on your phone to the book of Haggai.
Tips
Some of the verses are very loooong. For example 1:1. If you need to take more than one day on a verse, no problem.
If you have a study Bible, read the historical context for the book. Keep it handy as you go through the chapters, for the people and places you're unfamiliar with.
Choose any translation you like. I'll be using NIV-1984.
Other options
If you're in the middle of another project, you may want to take a break and join us for two months. Or, you may want to pick a totally different book to memorize.
God chooses to reveal himself through a composite of 66 books—diversity with unity. In Haggai, he reveals himself as the LORD Almighty. Can't wait to jump in.
Let me know if you want to join me and Haggai for this adventure. Also, we'd all like to hear about your current memory projects, and how God is meeting you in his Word.