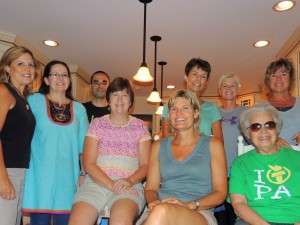 Five years ago, a group of four women started a Scripture memory group in West Chester, PA. Today they have a core group of fifteen (14 women + 1 man). They meet once a month for 1 hour and 15 minutes.
They call themselves the Word Warriors.
During that time they tell what God is teaching them through their memory work, discuss various methods of memorizing and reviewing, share suggestions from what has helped them, and then they recite. Sometimes they recite as a group, and other times they break into groups of 2 or 3 so that each one has an opportunity to recite what they've been working on. No one is ever put on the spot to recite; it's always optional.
HOW TO GET A GROUP STARTED:
•Find one or two other people committed to memorizing books and passages.
•Begin to meet regularly weekly or monthly.
•Take turns reciting what you've chosen to memorize.
•Over time tell others about the group and ask them to join you.
One idea is to invite over a few friends who love God's Word and recite a passage for them that you've memorized. Tell how memorizing has affected you and ask if anyone would like to join you in a small group.
For your initial group meetings you can use HIS WORD IN MY HEART (2013), as a week-by-week guide. You'll find an 8-week small group study guide in the appendix.
With a new group, all of you may want to memorize the same thing initially. After that, it's a good idea to let each person choose what they want to memorize, and let them go at their own pace.
Make reciting and sharing the primary emphasis of the group. Take turns saying out loud the verses you've been working on. It may feel awkward at first—in fact it probably will—but after a few times you'll see the incredible fruit that comes from being vulnerable. It doesn't matter if you have sweaty palms, or if you need to close your eyes or stare at the wall while reciting. It gets easier and more natural with time.
Share how memorizing God's Word is changing you on the inside, and how you're desiring and struggling to apply the passage.
I'd love for those who are in groups to share any insights from their group experience.