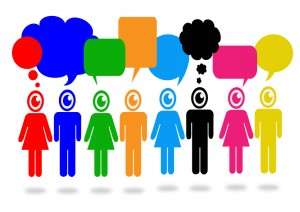 Our question this month was:
What are some of the mechanics of memorizing a book (or long passage) that trip you up? 
First, a huge THANK YOU to everyone for participating. I'm so thrilled that our community of memorizers is working the way I had envisioned—encouraging one another, sharing ideas and tips, and spurring one another on in our pursuit of knowing and loving God more.
I think we're all relieved that we're not the only one who gets mixed up.
One time I was asked to recite the book of Titus for a Sunday School class. I got to the part in chapter 3 that says, "This is a trustworthy saying…," and my brain jumped to 2 Timothy chapter 2 "Here is a trustworthy saying…" After a few more verses I realized I was in the wrong book. I love Karen Burrough's mention of Scripture Stew. It sounds like we can all relate.
Here are your answers to our question and I'm adding a few of mine:
Greetings and closings
Prepositions
Repeated phrases/similar wording
Lists
Connectors: and, for, or, therefore, because
Dialogue: he said, he replied, he answered
Pronoun changes: Paul frequently changes "I" to "we" and back again
Your suggestions were SO HELPFUL, and I'm adding a few of mine:
For similar verses print them out and compare the changes. Write out the words on top of one another and highlight the changes. Meditate on the changes. Cherie uses a different cadence when she finds a similar phrase.
Do not memorize 2 similar letters back to back (Colossians and Ephesians). Wait until one is in long-term memory.
Melissa and Sue mentioned how crucial it is to get the verses right/perfect before moving on, even if it takes several days to get it. Otherwise you may always struggle with those same verses even years later.
For lists, write in the margin next to the verse, the first letter of each item in the list. E.g.  e e i a l c r . Memorize the list while looking at the letters. Soon you will see the letters in your head every time you get to that verse. It's IMPORTANT to know that the brain can memorize two things at once.

Links for kinks

: when you struggle with remembering what comes next, look for a link that you can make from one verse to the next. E.g. One paragraph ends with the word ever. The next paragraph begins with, Even though…. Draw circles around the words and connect them with a line. Every time you review you will see the links. Eventually you will see the links in your head.

Flags for snags

: When you begin to memorize a verse that you realize is a repeat from earlier in the book, or, is also in another book, draw a red flag in the margin to the left of the verse. Then go to the other place where the verse appears and draw the same red flag in the margin. Every time you review your passage you will see the flag and it alerts you to pause and think, "Don't go on auto-pilot."
A few more tips can be found in my book HIS WORD IN MY HEART (2013 version), chapter 9, beginning on page 129.
I close by reminding you what John Piper said in last Friday's video. Our enemy, the devil, hates you and your family and your God." Memorizing Scripture is a powerful weapon in our arsenal. Satan doesn't want you to memorize and he will do anything to get you all mixed up and discouraged so that you want to quit. Let's be there for each other and help each other through the rough spots.
That's why we have this community. I'm so proud of each of you!!!!!
Please share any ideas or suggestions you didn't get to share on this topic.