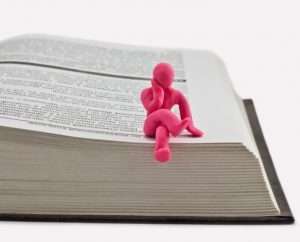 Acknowledging our total depravity assaults our pride and self-sufficiency. As we age, however, we more easily admit the deterioration of our physical composition. In recent years, our terrorized world, which seems to bleed evil deeds, makes it easier to concede our irreparably corrupt hearts.
Perhaps our last holdout is acknowledging the depravity of our minds.
We don't want to admit that our fallen-ness has corrupted our capacity to think rightly, that the world has polluted our thought-processes, and that our society's values have contaminated a once universal standard of right and wrong. We're impressed with our own intelligence and how quickly we can Google for answers.
A warning from the Apostle Paul stops us in our tracks:
"the wisdom of this world is foolishness in God's sight" (1 Corinthians 3:19).
God has an alternate plan for his people. It requires a total re-orientation—a recalibration of our thinking patterns and a revamping of old habits.
Paul tells us, "Do not conform any longer to the pattern of this world, but be transformed by the renewing of your mind." Romans 12:2.
Have we become so familiar with these words that we assume we're doing this? Paul's two-part exhortation involves shutting down one process and submitting to another.
Shutting down the thinking of this world starts with realizing our own inadequacy. We are incapable of thinking God's thoughts on our own. We have no ability to transform our minds to be like his. We're completely dependent on divine intervention. Without God's enabling we will only do what is right in our own eyes, we'll do what we think is best.
Shut down your conformity to the world's values and the world's agenda.
The second part is to submit to God's transforming process. The Holy Spirit is the one who transforms our minds, but that doesn't mean we are passive in the process. God gave us the Scriptures as an alternative to the thinking of the world. Exposure to God's Word is not enough—we must be immersed in it, saturating our minds with God's truth, giving focused attention to the Scriptures.
Spending a day without Scripture is foolish and arrogant—it assumes that our own thoughts are sufficient—we can figure this out.
This is why we memorize the Bible. It's not about ADDING Scripture to our day. The point is to REPLACE our default thinking with God's way of thinking. Saying God's Word out loud, over and over, day after day, chapter upon chapter, allows God's Word to replace worldly perceptions and fleshly inclinations with His perspective and his standard. Over time, this process will transform our minds by renewing them.
My fellow memorizers, do not lose heart in your daily discipline. Do not become weary in seeking God's thoughts above your own. Your diligence is a rejection of the world's ways and a submission to God's. Stay the course. You are planting good seed that will reap a harvest of wisdom and a sanctified mind.
What else would you like to say about the power of God's Word to transform our depraved minds?