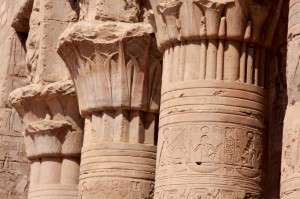 Joseph's story in Genesis, familiar to many, intends to give us hope when life overwhelms us. At 17 years old, Joseph was sold by his brothers, carried off to Egypt by slave traders, falsely accused by the wife of his master, thrown into prison, and then forgotten for two years by a fellow prisoner he had helped. When Joseph was thirty years old, he was released from his dungeon and elevated to second-in-command in Egypt. Pharaoh then gave him a wife who bore him two sons. When his first son was born, Joseph named him Manasseh, saying, "God has made me forget all my trouble and all my father's household" Genesis 41:51.
Really? Joseph forgot thirteen tragic years? He forgot his eleven brothers? I'm skeptical, are you?
The apostle Paul expresses a similar sentiment. He writes, "One thing I do: forgetting what is behind and straining toward what is ahead, I press on toward the goal to win the prize, which God has called me heavenward in Christ Jesus. All of us who are mature should take such a view of things" Philippians 3:13-15
Did Paul forget that he'd been an enemy of God, a persecutor of Christians, an approving eyewitness at the stoning of Stephen?
While Joseph's bad memories came from painful experiences that happened to him, Paul's bad memories came from the pain he caused others. Either way, they chose to forget the past.
I looked up the definition of forget in The American Heritage Desk Dictionary, 2013. Surprisingly I found two definitions—the second one relevant to the experiences of Paul and Joseph.
• 1) To be unable to remember (something)
• 2) To treat with inattention; neglect, as in forget one's family
Neither Paul nor Joseph was struck with amnesia. They chose not to dwell on memories that would hold them unproductive for the future. God used Joseph's trials to save the nation of Israel. Paul re-framed his past as a positive, telling his story over and over, so that others would know that God could forgive them also.
"Even though I was once a blasphemer and a persecutor and a violent man… I was shown mercy so that in me, the worst of sinners, Christ Jesus might display his unlimited patience as an example for those who would believe on him and receive eternal life" 1 Timothy 1:13,16.
Paul's new goal kept him moving forward, forgetting his past. Paul further explains that all who are mature should have a similar attitude.
Do you have painful experiences in your past? Me too. We can dwell on them and give them undue attention, or we can set them in a new context that will make us more useable for God's purposes. Paul tells us that God "comforts us in all our troubles, so that we can comfort those in any trouble with the comfort we ourselves have received from God" 2 Corinthians 1:4.
Joseph and Paul give us hope that God can work all things for our good and for His glory.
Memorizing Scripture has helped me reframe my past hurts. How about you?