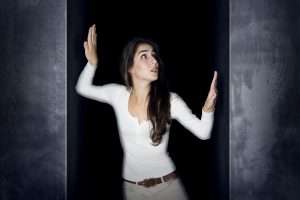 The daily stress of 21st century life puts us in a squeeze. Job pressure, time constraints, financial limitations, relationship demands—impossible expectations at every level.
Some days we feel like the walls are closing in on us, we're backed into a corner, we have no room to breathe. I have felt this recently with decisions and deadlines hanging over me.
I found a wellspring of encouragement in Psalm 4 as I dug deeper into the words. David felt this same pressure from adversaries who were trying to tarnish his reputation. He begins his prayer,
"Answer me when I call to you,
O my righteous God.
Give me relief from my distress
Be merciful to me and hear my prayer."
Looking at the Hebrew words I found a vivid word picture.
The word distress literally means narrow.
David is crying out to God saying, I'm in a tight space, I'm being hemmed in, I'm in a squeeze.
The word relief literally means to be wide, to enlarge.
When David asks God to give him relief he is saying, enlarge my space, give me some breathing room, push back the walls that are closing in on me.
That's how we all feel some days. But let's not panic. Take it to God. He knows how to widen our space and ease the pressure that closes in on us.
David continues the psalm, speaking next to his enemies in verses 2-5. Verse 3:
"Know that the LORD has set apart the godly for himself;
the LORD will hear when I call to him."
Who are the godly that the LORD (Yahweh) has set apart for himself?
Let's start with the Hebrew word hesed, the term used for God's covenant love for his people.
The godly in verse 3, are the haseed (a derivative of hesed), meaning the loved ones, the ones he loves with covenant love. This is why he has set them apart—because they belong to him—they are the people under his loving care.
So David tells his adversaries to back off because God has set apart the godly, and I am one of those people. David's boldness comes from knowing what God has promised, and from knowing that he is included as one of the loved ones. He has no doubt that God hears him when he prays.
The same is true for New Testament believers. We are in a covenant with Jesus. His death on the cross for undeserving sinners (that's us), and our acceptance of his sacrifice on our behalf, makes us one of the haseed—the loved ones. He has set us apart for himself. We belong to him. And he hears us when we pray.
David closes the psalm with continued confidence even though God has not answered yet:
"I will lie down and sleep in peace,
for you alone, O LORD, make me dwell in safety."
David isn't staying up all night fretting over the pressure he's under. He has asked God to widen his narrow, cramped space, and he's leaving it with God, trusting that God has heard his prayer and will be faithful to act on behalf of the haseed.
I confess that some nights I sleep poorly because my anxious heart won't let me rest. The pressure of the day squeezes me into a tight space and I toss and turn trying to figure my way out. This psalm refreshes me and brings me back to what I know is true:
When I pray to my covenant God, I am heard, because I am loved.
I've given you the highlights of my study of Psalm 4. There's more in this compact psalm and I'd love to hear your thoughts.