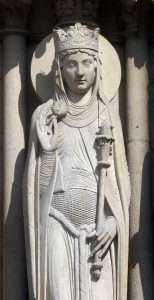 In the Old Testament book of 1 Kings, we read about the Queen of Sheba who travels a long distance to Jerusalem because she has heard about the great wisdom of King Solomon. She comes to check it out for herself.
"She said to the king, 'The report I heard in my own country about your achievements and your wisdom is true. But I did not believe these things until I came and saw with my own eyes. Indeed, not even half was told me; in wisdom and wealth you have far exceeded the report I heard. How happy your men must be! How happy your officials, who continually stand before you and hear your wisdom! Praise be to the Lord your God, who has delighted in you and placed you on the throne of Israel. Because of the Lord's eternal love for Israel, he has made you king, to maintain justice and righteousness'" 1 Kings 10: 6-9.
The Queen of Sheba seeks and finds an audience with Solomon, and recognizes the source behind his marvelous achievements and wisdom. One thousand years after this account, Jesus mentions her visit as a warning and a rebuke to that generation.
"The Queen of the South will rise at the judgment with this generation and condemn it; for she came from the ends of the earth to listen to Solomon's wisdom, and now one greater than Solomon is here" Matthew 12:42.
Jesus contrasts the Queen of Sheba with those in his audience. She made a supreme effort to seek out the wisdom of Solomon and learn from him. Those in Jesus' day had Wisdom Incarnate in their presence and they didn't take his words to heart. In the judgment the Queen of Sheba will rise to condemn that unbelieving generation.
It's easy to see Jesus' point to those who didn't take him seriously. But now we have to ask, what relevance does the Queen of Sheba have for us today? Jesus is not in our midst, but we do have his words. The Queen of Sheba made a long difficult journey to hear Solomon's wisdom, but we have something greater than the words of Solomon. We have the very words of God—living words—recorded and preserved for all who desire to know its wisdom.
Will the Queen of Sheba meet today's Christian church at the judgment and condemn us because she gave so much effort in her search for wisdom and truth, and here we have the Book of Wisdom at our fingertips and we make very little effort to know its message? I don't know about you, but I have no desire to hear from the Queen of Sheba at the judgment!
As always, I invite you to share your thoughts.