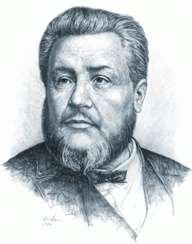 At the age of twenty, Charles Spurgeon became the pastor of New Park Street Church in London. His preaching drew large crowds thirsty for God's Word. The following are a collection of his quotes about the Bible. www.spurgeon.us and one in particular about memorizing Scripture.
Old-fashioned believers could give you chapter and verse for what they believed; but how few of such remain.
If you wish to know God you must know his word; if you wish to perceive his power you must see how he worketh by his word; if you wish to know his purpose before it is actually brought to pass you can only discover it by his word.
To me the Bible is not God, but it is God's voice, and I do not hear it without awe.
It is not the book that is to be altered; our hearts want altering.
These words come from him who can make no mistake, and who can have no wish to deceive his creatures. If I did not believe in the infallibility of the Book, I would rather be without it. If I am to judge the book, it is no judge of me.
I am perfectly satisfied myself to believe what he writes to me; and if it be so written in his Book, it seems to me to be quite as true and sure as if he had actually come from heaven, and had talked with me, or had appeared to me in the visions of the night.
Oh, to have the "word of Christ" always dwelling inside of us—in the memory, never forgotten; in the heart, always loved; in the understanding, really grasped; with all the powers and passions of the mind fully submitted to its control.

Do you know what it is to have a text leap out of the Scriptures upon you, and carry you away? This special energy and flash of truth is always memorable. How often have the waves of this sea of truth been phosphorescent before my eyes—a sea of glass mingled with fire, of which the spray has dashed over me and set my soul on flame!
Charles Spurgeon leaves a legacy of devotion—to know and proclaim God's Word.