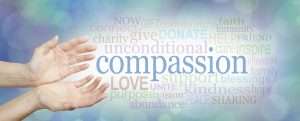 When God describes himself to Moses, the first attribute he mentions is compassion (Exodus 34:6). We read in the gospels that Jesus has compassion on the crowds, but what does that word really mean? The American Heritage Desk Dictionary gives this definition:
Deep awareness of the suffering of another.
It also notes that the word comes from Latin: passion = suffer, com = with. The word compassion means, to suffer with. God chose to suffer with his people—astounding!
Jesus didn't rescue us by barking orders from heaven. He condescended to become human flesh. Jesus identifies with our humanity and the frailties that go with it. He knows the lure of temptation and the hurt of relationships. Satan oppressed him. His family members dismissed his claims. His friends abandoned him when he needed them most. One friend betrayed him for money. The esteemed of society falsely accused him. He was belittled and mocked with utter humiliation. He hated the shame of it. He was disrespected and unappreciated. He knew hunger and thirst and homelessness. He endured the torture of crucifixion. And most painful of all, his Father turned his face from him.
Why did he agree to this?
"Greater love has no one than this, that he lay down his life for his friends" John 15:13. "No one takes my life from me. I lay it down willingly" John 10:18. Jesus agreed to suffer with us because he loves us.
Jesus is deeply aware of our suffering. And his compassion isn't removed because the cross is behind him. He loved us then, he loves us now. Jesus and the Father unite in their love for us. "He who did not spare his own Son, but delivered him up for us all, how will he not also with him freely give us all things?" Romans 8:32. The Father did not withhold his Son from us, neither will he withhold anything else we need.
Jesus has not forgotten the challenges and frustrations of living in this imperfect world. He understands stress and the weight of fulfilling God's difficult assignments. He has made lavish provision for us to live in this pain-filled world. Jesus intercedes for us with his Father. God gives us His Holy Spirit to live inside us, and the church to walk beside us. We're not alone in our sorrows and sufferings. We have help from above, help from within, and help from beside.
God's compassion wasn't intended to stop with us. God wants us to be deeply aware of other's hardships so that we can pass on the comfort we have received. "He comforts us in all our troubles so that we can comfort those in any trouble with the comfort we ourselves have received from God. For just as the sufferings of Christ flow over into our lives, so also through Christ our comfort overflows." 2 Corinthians 1:4-5.
God sends out his children to reach other hurting people with the love and compassion we have received. Even while we're hurting, our compassion can be helping someone else.
Will you share your thoughts with our community?