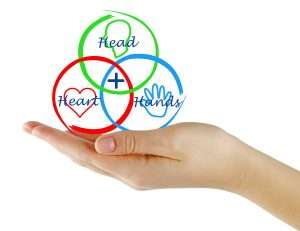 It's one of my pet peeves, and someone said it again. "You shouldn't memorize for head knowledge but for heart knowledge." Where are people coming up with this stuff? That's totally unbiblical.
Are we just supposed to FEEL our way through the Christian life? Of course we memorize for head knowledge. How else are we going to think biblically if there's no knowledge in our head? Does God only want us to feel his presence, or does he want us to know that he is with us, even when we don't feel it?
Why head knowledge is important:
• Jesus restated the great commandment, "Love the Lord your God with all your heart, and with all your soul, and with all your mind and with all your strength…" Mark 12:30. Love is not intended to be merely an emotional experience.
• Paul prays that you will know the hope to which he has called you, the riches of his glorious inheritance in the saints, and his incomparably great power for us who believe" (Ephesians 1:18-19). Paul prays that we will know the depth and breadth of the love of God (Ephesians 3:18).
• Peter tells us to "Grow in the grace and knowledge of our Lord and Savior Jesus Christ" (2 Peter 3:18).
• John tells us, "We love God because He first loved us" (1 John 4:19). Our love for God depends on our knowledge of His love for us. The heart cannot love what the mind does not know.
• "The weapons we fight with are not the weapons of the world. On the contrary, they have divine power to demolish strongholds. We demolish arguments and every pretension that sets itself up against the knowledge of God, and we take captive every thought to make it obedient to Christ" (2 Corinthians 10:4-5).
I think we can all agree that we memorize for more than head knowledge. The Bible must be applied, not just memorized. I agree with that, but only because I know these words from James: "Do not merely listen to the word, and so deceive yourselves. Do what it says." (James 1:22). The conviction to apply God's Word comes from the knowledge that it is the expected behavior.
Head knowledge is not an end in itself, but rather it leads the way into loving God with all our hearts and into submitting our wills to live out the knowledge we have.
We cannot trust our deceptive hearts. Head knowledge informs our heart what to believe and where to set our affections.
Knowing the promises of God gives us hope, grows our faith, shows us what love looks like. Don't be led by your heart. Know what is true, and then inform your heart.
I'd love to hear your thoughts.