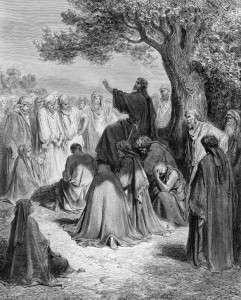 Have you ever wondered if Jesus memorized Scripture? We know he frequently quoted Scripture, so did he know it intuitively because he was God, or, since he was human did he have to learn it as a child growing up? It's an intriguing question but an unproductive debate because we don't know. We are not told.
What we can ask is, why did Jesus quote Scripture?
• To counteract the lies and enticements of the devil
• To answer a question with truth
• To correct wrong thinking
• To explain why certain events did happen, are happening, and will happen.
• To show the relevance of God's Word in a given circumstance
Jesus models for us how quoting Scripture brings understanding, comfort, and power into a situation. Here are some sample situations that might be appropriate for us to quote Scripture:
• When someone expresses their distress over all the terrible things going on in the world, you can remind them of Jesus' words. "In this world you will have trouble but take heart, I have overcome the world." John 16:33
• I was asked recently if it was possible that Jesus forgave Judas. I told my sincere friend that our only authority is God's Word, and then shared with her the words of Jesus, "While I was with them, I protected them and kept them safe by that name you gave me. None has been lost except the one doomed to destruction so that Scripture would be fulfilled." John 17:12. The answer is No, Judas was not forgiven.
• When the enemy of our soul whispers in our ear "your prayers won't change anything" we can answer with confidence, "The prayer of a righteous man is powerful and effective." James 5:16
• When sharing the plan of salvation, quoting Scripture clarifies issues like grace vs. works. "For by grace you have been saved through faith, and this not from yourselves—it is the gift of God—not by works so that no one can boast." Ephesians 2:8-9
• Advice for a friend who is in a contentious marriage. "A gentle answer turns away wrath, but a harsh word stirs up anger." Proverbs 15:1
One caveat—Jesus always spoke with perfect insight and timing. We have neither. There have been times that I've spoken up only to regret it later. And conversely, there've been times I kept silent and wished I'd spoken up. We need the wisdom and discernment to know when the Holy Spirit is prompting us to speak God's Word. Timing is crucial.
"Let your conversation be always full of grace, seasoned with salt, so that you may know how to answer everyone" Colossians 4:6.
Memorizing Scripture prepares us for opportunities to speak truth into a situation.