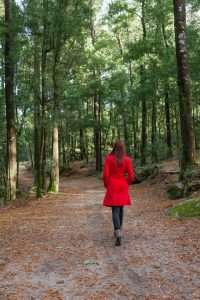 Today I read about someone who once loved the Lord and served him zealously, but now she has walked away and disowned him. I feel so disheartened. I feel sad and frustrated. How does this happen? How do you change your mind about Jesus? How can you come to a place where you no longer need a Savior?
If this were a rare isolated incident I could explain away the anomaly, but it seems to be a frequent occurrence these days. Many are leaving the narrow road for the twelve-lane highway.
Why does this catch me off guard? Jesus warned that this would happen as the end approaches. "At that time many will turn away from the faith and will betray each other, and many false prophets will appear and deceive many people. Because of the increase in wickedness, the love of most will grow cold, but he who stands firm to the end will be saved" Matthew 24:10-13. Notice Jesus uses the word many three times.
Jesus experienced personally the betrayal of one in his inner circle. An interesting thing happened when Jesus announced to the twelve "One of you is going to betray me." "His disciples stared at one another, at a loss to know which of them he meant" John 13:21-22. None of them looked at Judas and pointed to him as the obvious one. He blended in well with the others. It was inconceivable to the disciples that any of them, who had left everything to follow him, and who had been with him day and night for three years, would sell him down the river.
And yet it was true. Judas Iscariot, who was part of the distribution of loaves and fish to 5000, who witnessed the demon-possessed liberated, who heard Jesus call Lazarus from the tomb, became a traitor, undetected by the others.
Why do people defect from the faith? Why did Judas? Some will say that Judas did it for thirty pieces of silver. But look closer. The Chief Priests did not bribe him—he approached them. He asked them, "What will you give me if I hand him over to you?" Matthew 26:15. Judas had already decided to walk away from Jesus, and then looked for an opportunity to cash in on it. We see the same thing today—theologians, authors, celebrities of every kind, cashing in on their departure from Jesus to a more "enlightened and tolerant philosophy."
But there's a more fundamental reason why people leave the faith. The Apostle John tells us, "They went out from us, but they did not really belong to us. For if they had belonged to us, they would have remained with us; but their going showed that none of them belonged to us" 1 John 2:19.
The same night that Jesus shocked the disciples with news of a defector, he encouraged them by his prayer to the Father on their behalf. Two points that relate to Judas (and all defectors):
• "You (Father) granted him (Jesus) authority over all people that he might give eternal life to all those you have given him" John 17:2
• "Holy Father, protect them (disciples) by the power of your name… While I was with them I protected them and kept them safe by that name you gave me. None has been lost except the one doomed to destruction so that Scripture would be fulfilled" John 17:11-12.
Jesus taught this same truth earlier in his ministry. "My sheep listen to my voice; I know them, and they follow me. I give them eternal life, and they shall never perish; no one can snatch them out of my hand. My Father, who has given them to me, is greater than all; no one can snatch them out of my Father's hand" John 10:27-29.
It's unsettling to know that there are Judases among us—they appear to be followers, insiders, even truth-proclaimers. But their love grows cold and one day they will defect.
We don't understand how this happens or why God allows it to happen. What we know for sure is that "God knows those who are his" (2 Timothy 2:19), and none of God's sheep will be lost. If one of them wanders away, Jesus will leave the ninety-nine and go after the one who has strayed (Matthew 18:12-14).
A heavy topic today. It's one more reason to stay in God's Word. It tells us what we need to know—the good things and the hard. I'd love to hear your thoughts.