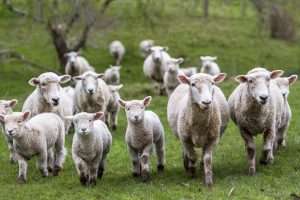 How are we going to figure out solutions to the prickly problems we face today?
How will we resolve the conflicts that threaten to undo us?
How will we get through the maze without giving up at so many dead ends?
Questions we're all asking.
Before God created the world and everything in it, he must have had a plan—surely! He knew the Fall was coming. He knew that would leave his people lost without direction. He knew some would choose to follow him (imperfectly) and some would defect.
In the days following the Exodus from Egypt, God led his people in a cloud by day and a pillar of fire at night. He fed them bread from heaven—manna appeared every morning. God's leading them and feeding them were supernatural happenings. They were miraculous physical manifestations of God's love and care. They were God's consistent provision day-in and day-out.
But that didn't keep the people from grumbling. They were tired of the same old, same old. They wanted something new. It's easy to criticize those ungrateful people. God gave them everything they needed and it wasn't enough.
Fast forward a few thousand years and here we are in the same boat in a different stream. God leads us and feeds us by way of a miraculous Book that he preserved for us over the centuries. The book is everything we need for life and godliness provided through God's divine power (2 Peter 1:3). Through his Word he leads us step-by-step and feeds us day-by-day.
But we're just as fickle as our ancestors. We want something else. We want a new Savior, a different book—we've already read that one! We want something more sophisticated, or at least updated. We want God to lead us and feed us with fresh ideas. I catch myself thumbing through my Bible looking for some new truth.
News Flash—there is no new truth. In fact, there is nothing new under the sun—same problems, same solutions. The Book covers them all.
When we dismiss the Bible as archaic remedies, inadequate for our modern world, we devalue God's provision and disrespect his methods. The Bible is no less a miraculous provision than God leading and feeding the Israelites.
The problem is with us. We have grown stale. We have drifted off course. We have dug our own ditch and are stuck in it. And we're hearing echoes of the serpent's lie that God's Word is not to be taken seriously.
So when we return from the latest seminar Ten Tips for a Better Life, and when we give up our web search for innovative insights to the mess we're in, the Book will be waiting where we left it—still relevant, consistent and unchanging.
Love to hear your feedback and pushback.