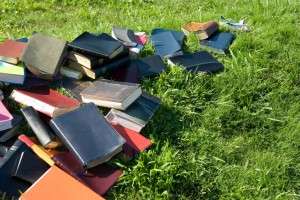 A recent sermon at church reminded me of a great story from years ago. In the mid-1990s, I was on a mission trip to Russia with a group of school teachers. They let me come because I was a Bible teacher, though never in a school setting. We were part of a pilot group that would teach a Christian curriculum to Russian public school teachers.
We took Russian Bibles to give to each of the teachers at the conference. One of our team members, Joyce Klutts, an energetic senior citizen from our church, shared this story from her group.
On the first day of the 4-day conference she handed out the Russian Bibles, one to each teacher. As Joyce taught for the next several hours she noticed one man, Victor, who was not paying any attention to her teaching but was writing feverishly in his notebook. At the break, Joyce encouraged him to listen to the seminar and do his other work later.
During the entire afternoon sessions he kept writing in his notebook, oblivious to the seminar or anything else going on around him.
At the end of the day Joyce spoke firmly to Victor, telling him to please do his work some other time so that he would not miss any of the session tomorrow. He apologized and said, "This is the first Russian Bible I've ever had a chance to hold, and I want to copy down as much as possible before I have to give it back."
Joyce told him, "The Bible is yours to keep; it's a gift."
Victor held the Bible to his chest, shook his head in disbelief, and tears hit the floor.
As Joyce shared this story with the rest of the team, we too were moved. Owning a Bible was such a common thing for us that we'd all taken it for granted and didn't prize it as we should.
Victor had the right perspective and he became our teacher.
I'm including a video of believers in China, receiving their own Bibles, to remind us once again what a treasure it is to own a copy of God's Word.
We Take Them for Granted, But Other Countries Treat Bibles Like Gold! from believe836 on GodTube.