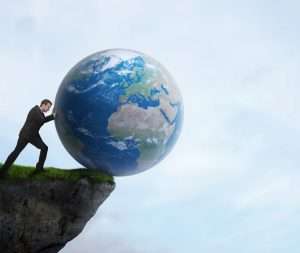 Another mass shooting—an all-too-common phenomenon that has become part of our cultural landscape.
The perpetrators, often called psychopaths and madmen, leave people searching for explanations and motives. Many ask, "What is our world coming to?" and "When will this stop?"
Voices from the Twitter-sphere: "senseless" "unfathomable" "no words to express."
People are asking sincere questions. The same responses keep circulating on social media without providing real answers.
Perhaps it's time we take the conversation in a different direction.
As Christ-followers we do have words to express what is going on. They come from the Bible.
Students of the Bible should not be shocked at what is happening in our world. These evil acts do make sense when you combine two deadly components: the depravity of the human heart plus the development of advanced warfare technology.
Jesus identified the motives of anger and hatred as the root cause that ultimately leads to murder (Matthew 5:21-22).
The Bible describes humanity and the human heart in the bleakest of terms: incapable of doing good, and desperately sick (Romans 3:10-18 & Jeremiah 17:9).
The planet we live on is not heaven—this is earth, where the prince of this world works through the disobedient, seeking to kill and destroy (Ephesians 2:1-2; John 10:10).
Many wonder what God would say in these situations. But God has already spoken clearly about this. He gave us two fundamental commandments to live by: love God with all your being, and love your neighbor as yourself (Mark 12:28-31). If we had followed these simple instructions we would not have any murders.
But, alas, human beings have no capacity for good apart from God himself. We are powerless to live by the Golden Rule. Our proclivity is toward evil, not toward good.
We need a Savior. And sometimes it takes desperate situations to see our desperate need.
God's remedy is not new. This two-party transaction is as old as the Old Testament.
"Seek the LORD while he may be found;
call on him while he is near.
Let the wicked forsake his way
and the evil man his thoughts.
Let him turn to the LORD,
and he will have mercy on him,
and to our God, for he will freely pardon." Isaiah 55:6-7
Our part is to seek the LORD, call on him, forsake our evil ways and thoughts, and turn to the LORD. And God's part? He will have mercy on the repentant one, and freely pardon.
The New Testament further clarifies who the LORD is and why he came. Speaking of Jesus Christ, the Apostle Peter declares, "Salvation is found in no one else, for there is no other name under heaven given to men by which we must be saved" (Acts 4:12).
Speaking of the end times, Jesus said, "Because of the increase of wickedness, the love of most will grow cold, but he who stands firm to the end will be saved. And this gospel of the kingdom will be preached in the whole world as a testimony to all nations, and then the end will come" (Matthew 24:12-14).
There's no better time to share the gospel than when people are asking why this world is such a mess. Don't give them false assurance that this world will get better. Tell them about a better world—and how to get there.
We would all benefit from your thoughts on this somber subject.