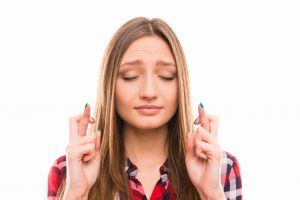 With loved ones living in Florida, I listened intently to the weather channel for the duration of Hurricane Irma. Days ahead the meteorologists were plotting the path of the hurricane and describing the potential for destruction, warning residents to prepare. I was struck by these words announced by what I presumed to be a brilliant meteorologist "This is all we know, now we have to keep our fingers crossed." Really?
A few days later my husband and I were getting our annual flu shots at our local pharmacy. In between injections, the pharmacist explained this year's flu strain and the hope of avoiding a major influenza outbreak. Then he said, "This is what we've prepared for, now we have to keep our fingers crossed."
There it was again—another highly-educated, and heavily-trained scientist giving us a very unscientific recommendation.
Of course, neither of these experts was speaking literally—no one can function with fingers crossed at all times, nor do they actually believe it might affect the outcome.
So what exactly were they saying? Perhaps any or all of these things:
• They were acknowledging their limitations as scientists. Science can take you only so far.
• After scientific knowledge has been exhausted, the rest is left to chance.
• Since they have no control over chance, they reference a superstition that gives the illusion of control—even though they neither practice it, nor believe it.
• There is hope for the situation, even though the source of that hope is unspecified.
All this is evidence of the vacuum in people's lives when they don't have God. They have no certainty and no reassurance that all will be well—everything's a risk! When someone mentions fingers crossed it usually means they feel hopeful but can't identify the source of that hope. For many it is just wishful thinking, good luck, or the ever-popular energy in the room.
I would love to tell you about my evangelistic response to the pharmacist, but I didn't think about it until later. The opportunity slipped away—I was not ready.
I wish I had told him about an alternative to crossed fingers—belief in the one true God, made known through Jesus Christ. His power has no limitations. His knowledge is never exhausted. He leaves nothing to chance. He works out everything in conformity with the purpose of his will (Ephesians 1:11). He promises to work all things together for good to those who love him (Romans 8:28). That promise is for believers in Jesus—and the invitation is wide open.
Always be prepared to give a reason for the hope that is in you (1 Peter 3:15). Let your life and your words bear witness. Tell those who are fearful about storms and the flu, that God holds the world securely in his hands.
He doesn't need to cross his fingers—and neither do we.
These are just some thoughts from last week. I'd love to hear yours.