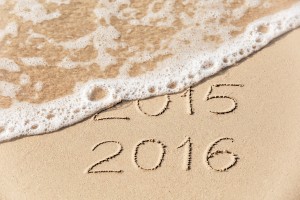 When it comes to goal setting, it's hard to find the balance between stretching yourself to accomplish noble things, and keeping them realistic and reachable. I love setting goals, and working toward them. Last year, I was a little too ambitious on my goal setting and felt a measure of disappointment at year's end.
There's a saying out there "It's better to aim for the stars and hit only the moon, than to aim at nothing and hit it every time." While that may be true, it's probably best to set fewer attainable goals, so that you can achieve what you really aspire to. This year, my shorter list will keep me motivated and encouraged.
Don't think I'm suggesting that anyone quit memorizing Scripture—no, never—it's food for the soul. It keeps our thoughts on the Lord and our hearts communing with him. It's our weapon against the world's agenda, and our refuge when life swallows us up.
If, like me, last year's aggressive goals left you discouraged, let me recommend a change for this year:
• Don't tackle a long book if you're a novice at Scripture memory. Romans is a fantastic book to memorize but it requires great perseverance over a long haul.
• Increase your confidence, and your motivation, by tackling shorter passages and then work your way up.
• Take lots of time to meditate on the passage while you're learning it. What is it saying about God, and you, and your life right now?
• If New Testament letters have been difficult for you, consider short psalms, short stories, and short passages that can be linked together.
Psalms, stories, and passages under 10 verses:
• Psalm 1, 4, 8, 23, 100, 121
• John 14:1-7, "In my Father's house…"
• Matthew 7:24-27, Building on the rock
• Mark 12:41-44, The widow's offering
• Mark 14:3-9, Jesus anointed with perfume
Psalms, stories, and passages, 10-20 verses:
• Psalm 19, 27, 84, 91
• Luke 4:1-13, The temptation of Jesus
• Luke 7:1-10, The Centurion's Faith
• Luke 10:25-37, The Parable of the Good Samaritan
• Luke 14:15-24, Parable of the Banquet
• John 1:1-18, The Word
Psalms, stories, and passages, 21-31 verses:
• Psalm 103, 139, 145
• Proverbs 4
• Isaiah 40:1-39, Comfort for God's people
• Isaiah 52:13 – 53:12, The suffering Servant
• Daniel 3 – Shadrach, Meshach & Abednego
• John 3:1-21, Jesus and Nicodemus
• Deuteronomy 6 – Love the Lord
Example of short passages that link together:
• Luke 15:1-7, The lost sheep
• Luke 15:8-10, The lost coin
• Luke 15:11-32, The lost son
Do these in order, and when you finish you'll have an entire chapter.
Another example:
• Matthew 6:1-4, Giving to the needy
• Matthew 6:5-15, Prayer
• Matthew 6:16-18, Fasting
• Matthew 6:19-24, Store up treasure in heaven
• Matthew 6:25-34, Do not worry
The entire Sermon on the Mount (Matthew 5-7) can be broken down into smaller units.
If you've never memorized any of God's Word before, get in on the adventure. Make the great exchange—your thoughts for God's. You'll be amazed at the transformation in your heart and mind. God will meet with you as you recite his words.
For the mega-memorizers out there, keep pressing on, don't let up. Enjoy the sweet fellowship of knowing God and walking with Him. Let his words go deep, and his light shine through you.
I'd love to hear more suggestions for great short psalms, short stories and short passages.