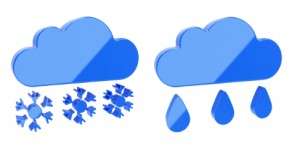 One summer a time of waiting on God dissolved into frustration when no answer came. Desiring to breathe fresh air into my stale perspective, I decided to memorize Isaiah 55, which includes these words:
"For my thoughts are not your thoughts, neither are your ways my ways," declares the Lord. "As the heavens are higher than the earth, so are my ways higher than your ways and my thoughts than your thoughts." Is. 55:8-9
This familiar passage took on new life as I memorized it. I saw that my crummy attitude had reduced God to someone unable to answer my request—like an imperfect father, too tired, indecisive, or locked in a schedule jam. But through Isaiah God spoke, "My way is best. I know what I'm doing."
And then when I surrendered He showed me even more:
"As the rain and the snow come down from heaven, and do not return to it without watering the earth and making it bud and flourish, so that it yields seed for the sower and bread for the eater, so is my word that goes out from my mouth: It will not return to me empty, but will accomplish what I desire and achieve the purpose for which I sent it." Is. 55:10-11
God compares His Word to the rain and the snow that water the earth and cause life and growth. I'd always loved these verses, but I'd never connected them to the two previous verses about God's thoughts and God's ways. Then a light came on! The reason God's Word causes life and growth is because it contains God's thoughts and God's ways—I'd never seen that before. Wow! When we get into God's Word, it becomes our pipeline to God's way of thinking and doing things.
As I stay in God's Word, abide in God's Word, drink in God's Word, it will do its work in me, the work God sent it to do. It will accomplish God's desire and achieve His purpose, which is to cause growth in me—by bringing my thoughts and my ways into alignment with His.
God's Word gives me new eyes when my stubborn heart blinds me. God's Word stretches me, humbles me, and puts me back on the path when I fall off. Nothing else compares!
I'd love to hear how God's Word has changed your attitude and opened your eyes. Please share.