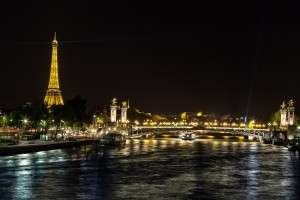 The City of Lights suspended in darkness.
Shock and grief, horror and anger, fear and apprehension. Paris was targeted, but the whole globe shudders, and wonders, "Will we be next?"
As we watch our world grow darker, we realize we're in a battle much bigger than ourselves, with few answers for this abominable foe. Our humanity reacts in fear and anxiety. With no intervention in our thinking, we eventually slide into despair mode.
Brothers and sisters, do you need a push to get serious about memorizing Scripture?
"You will keep him in perfect peace whose mind is stayed on you" Isaiah 26:3.
We have an enemy who hates us—one far more powerful and dangerous than religious terrorists. Satan himself is behind these evil attacks. The terrorists are his unwitting minions.
We don't have to live with trembling hearts. God gives us his Word to strengthen our weak knees and fortify our confidence.
Two benefits of memorizing passages:
• When a crisis comes, we're ready in that moment with words of truth.
• God's Word, continually on our lips, puts our focus on the Mighty One who fights for us.
This example applies to both personal and national tragedies:
"The Lord is my light and my salvation—whom shall I fear?
The Lord is the stronghold of my life—of whom shall I be afraid?
When evil men advance against me to devour my flesh,
when my enemies and my foes attack me, they will stumble and fall.
Though an army besiege me, my heart will not fear;
though war break out against me, even then will I be confident."
Psalm 27:1-3
Memorize these words and the rest of the psalm. They will calm your anxious heart by keeping you connected to the One who holds your life in his hands.
Jesus told us everything the Father told him to tell us. Jesus says, "I have told you these things, so that in Me you may have peace. In this world you will have trouble. But take heart! I have overcome the world" John 16:33.
Please share with our community how God's Word has been a source of peace and strength for you, when you might have otherwise been panic-stricken.