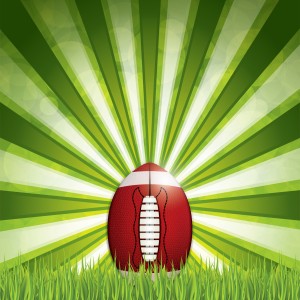 This morning, I have my Scriptures sitting on the bathroom counter, ready for review, but my mind drifts to last night's football game. Overtime—and my team loses. W-a-a-a-a-ah!
Our quarterback got injured in game two, and we're all anxiously waiting for his return. Now mid-game, one of our defensive stars gets knocked out with a concussion. This nail-biter has all the makings of a great victory, but in the end we come up short—close, but no W.
Disappointment, frustration—six losses in a row. Only at the halfway point, our season might be over. Bummer!
My football-loving family, scattered into three states, enjoys texting back and forth during the games. I check mine from last night: "You've got to be kidding." "They'd better not take back that TD." "That was NOT a push-off." "Our defense is exhausted." "Crunch time." Please, please make it." "Booooooo, heartbreaker."
This morning I catch myself getting back into the addictive frenzy, stewing about the game, and thinking about sending out more texts to commiserate with the others who don't want to wait till next year.
Football is fun, and it's cheap entertainment, but I easily get entangled in it, giving it more weight than it deserves. I have to put the brakes on before it consumes my day, my week, the whole season—which is half the year. A football game? Really?
There's no lasting satisfaction with football. You wait for, and hope for, the coveted prize. But even when you win the BIG ONE, it's not many days before you say, "Just one more."
Time to recalibrate.
The second Monday of every month our Scripture memory group meets for one hour. We're each memorizing something different, and we take turns reciting a portion from what we're currently working on. Nothing compares with this edifying and affirming slice of time.
This morning Helen recited Psalm 130. I'd never paid much attention to this one. A portion here:
" I wait for the Lord, my soul waits,
and in his word I put my hope.
My soul waits for the Lord
more than watchmen wait for the morning,
more than watchmen wait for the morning.
O Israel, put your hope in the Lord…" Psalm 130:5-7
These words wash over me, refresh me, and untangle my heart. I come home and look them up again. I read the words slowly, making them my own. I want to wait for the Lord, and no one else. I want to put my hope in him, and nothing else. I want the Lord to be the only longing in my heart, the only thing my soul waits for.
I'd love to hear your thoughts.