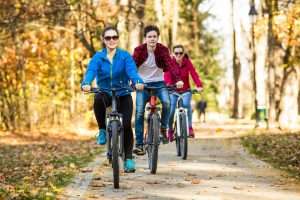 Now is a good time to check in with the memorizers in our community. Memorizing Scripture can be compared to bicycling. Learning a new passage is like pedaling hard, exploring new territory, and enjoying the beauty of the experience. Coasting is more like reviewing your passage, going at a slower pace. Both pedaling and coasting are part of the process.
With summer fading and fall soon upon us, it might be time to chart a new course by picking a new passage to memorize. For me personally, if I don't have a specific plan I will coast through the fall, miss the stimulation that comes from memorizing a new passage, and end up with a football hangover. Another option? Pedal hard, take a fresh path, and push myself to the summit.
Let's spur one another on to know and love the Book and its Author. We can draw strength from each other, even if we're doing different passages. My next memory project is 1 Corinthians chapters 1-4. This section highlights the power and wisdom of this world versus the power and wisdom of the gospel.
My starting date is September 1. I invite you to join me. Here's my fall plan for pedaling and coasting into 2018:
September – chapter 1
October – review chapter 1
November – chapter 2
December – review chapter 1 & 2
January – chapter 3
February – review chapters 1-3
March – chapter 4
April – review chapters 1-4.
Somewhere along the journey the wheels might fall off, but at least we can start strong and then readjust when needed. Read through 1 Corinthians 1-4 and listen for your name being called. If you don't hear anything, pick another passage that interests you. Then come up with a plan and tell us about it. Make it a plan that will work for you.
Assuming that many of you are in the middle of a memory project right now, tell us what you're working on and which chapters you plan to tackle this fall. Declaring your intentions will fortify your plan and provide a sense of accountability. We're here for each other.
OK, all of you out there in the blogosphere, tell us what you'll be memorizing this fall—and maybe why you chose that passage.