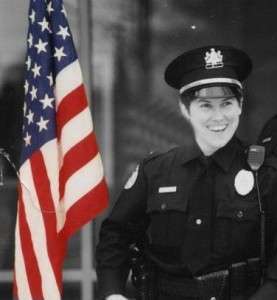 The time I find most profitable to memorize scripture is when I am walking my dogs around my neighborhood. I carry an 8 ½ X 11 sheet of paper with a larger portion of scripture written on it (a chapter or Psalm). I read a portion and then recite it out loud over and over as I walk along. The dogs are a good cover so the neighbors don't think I am crazy. I like being outside and memorizing a Psalm such as 19 where I can actually see the heavens declaring "the glory of God." I can also turn parts of this Psalm into a prayer as I walk along, "Cleanse me from secret faults. Keep back Your servant also from presumptuous sins; Let them not have dominion over me." Furthermore, it is a good time to lift my neighbors up to the LORD as I pass their homes.
This practice of scripture memorization renews my mind and prepares me for work. I have been a police officer for 23 years. I am assigned to the patrol division in a busy department outside of Philadelphia. At work, I carry laminated 3 X 5 index cards of scripture in my uniform pocket. I review them during down times such as when waiting for a tow truck to get to an accident scene or for a court proceeding to begin. Having God's word in my heart at work is invaluable. Sometimes I have no idea how to handle a situation but will remember my James memory work. "If any of you lacks wisdom, let him ask of God, who gives to all liberally and without reproach, and it will be given to him." I then turn this into a silent prayer before acting. James also says, "Let every man be swift to hear, slow to speak, slow to wrath." This verse reminds me to actively listen to victims, complainants, and co-workers instead of swiftly speaking and/or getting angry.
The scripture I store in my heart provides constant nourishment throughout my twelve hour shifts. It helps me survive the streets and view situations more from God's perspective. It also makes me more sensitive to the Holy Spirit and what He wants to accomplish in the lives of all whom I come into contact with.