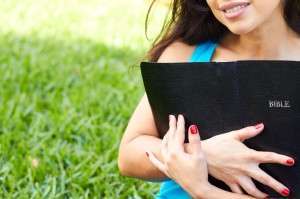 Guest blogger: Richie Malone
Toddlers say that when they get a toy pulled from them. I used to tell my sisters that when I caught them wearing something from my closet. Even a few adults think it when they go to sit in that same familiar spot in church and someone else has taken their seat.
But, that possessive declaration can also be applied in a good way. Our pastor began a sermon series this month on Psalm 103, focusing on a different verse each week. I memorized that Psalm a few years ago. Each Sunday when I hear him teach on this passage, I smile to myself and think "Hey, that's mine".
It's that way with every book or passage I have committed to memory. They become precious to me, and actually part of me. I have spoken them aloud so many times that the words just gel with my insides. And since they are God's thoughts, they have a certain significance that human words just can't match. They are actually living in me and transforming my world. These lines from the Bible have pulled me out of much foolishness, helped me build my foundation on the Rock, and set my mind on things above, not on earthly things. Best of all, my eyes are being opened to the depth of the love that my great God has for me.
I did not read the Bible until I was almost forty years old and certainly never memorized anything other than John 3:16 up to that time either. I got my information about God from preachers, books I read about the Bible, praise songs, and radio interviews with Bible experts. Thinking back now to the first 40 years of my life, it was like I was observing something wonderful from afar, something just beyond my range of sight, straining to see but not being able to quite make it out. I was trying to look at it through the glasses of others.
After the last 11 years of memorizing God's word for myself, I don't even need glasses because what I strained so hard to see is not far away anymore. I am sitting on the sofa with God in his living room when I am meditating on his word!
So when I hear any scripture spoken that I have memorized, they aren't just idle words for me, they are my life! I do possess them and they are mine. And the result is that I have a clearer picture of what my Redeemer looks like.